Rome Blockchain Labs Joins Alluvial to Provide Enterprise-Grade Avalanche (AVAX) Liquid Staking
Alluvial's multi-chain standard supports ETH, DOT, and AVAX liquid staking for institutions and enterprises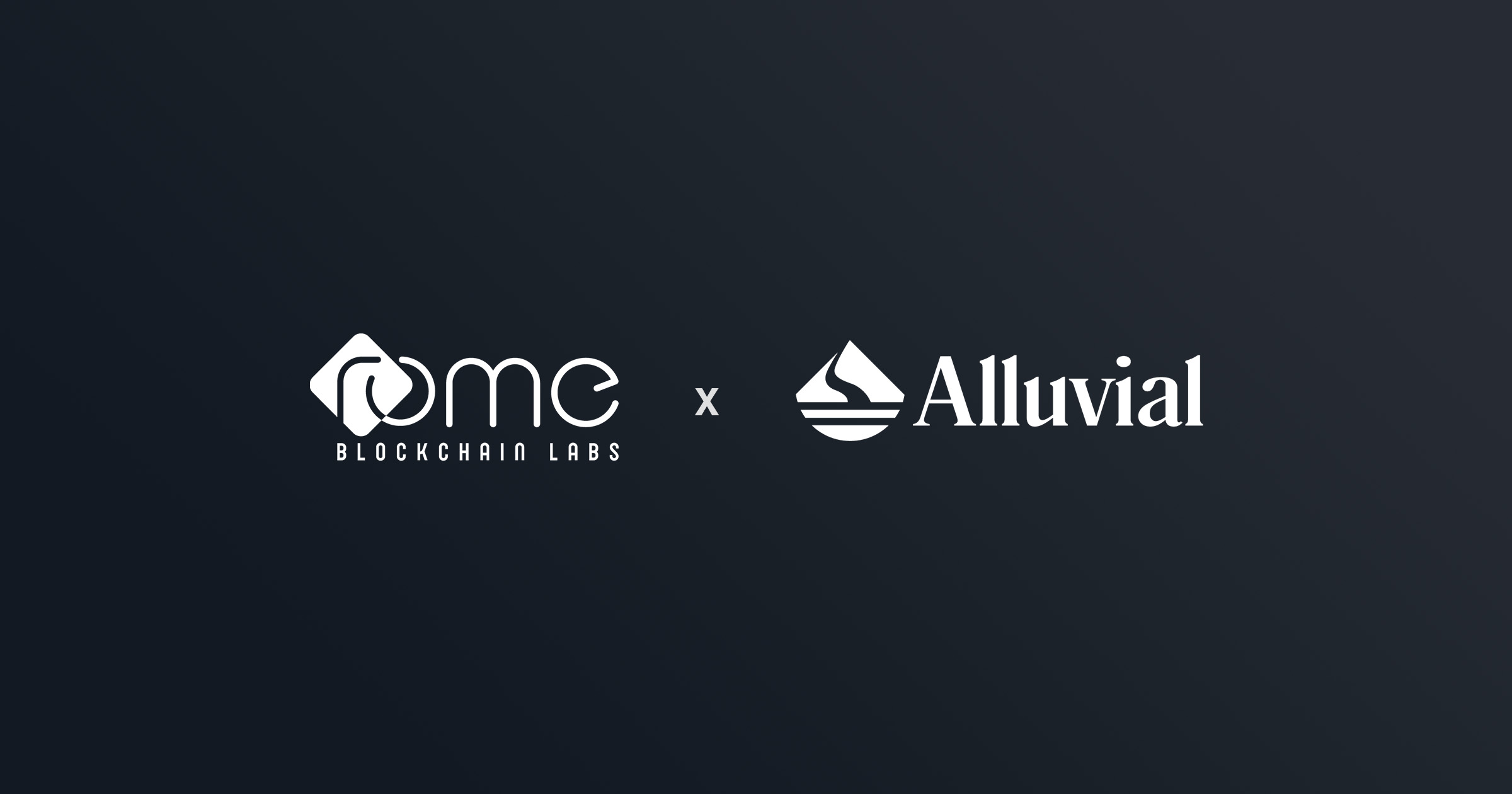 We're thrilled to announce a collaboration with Rome Blockchain Labs, the organization behind BENQI's Liquid Staking protocol on Avalanche, and the founders of BENQI, to build a compliant, enterprise-grade Avalanche (AVAX) liquid staking product. This collaboration offers institutions a secure AVAX staking option while participating in the consensus mechanism of the Avalanche platform and enabling more flexibility and liquidity for institutional network participants.
Many liquid staking protocols currently available do not meet the needs of enterprises. Alluvial's first-of-its-kind liquid staking standard addresses the need for KYC/AML requirements for institutions, web3 native enterprises, and other regulated entities to remain in compliance with regulatory obligations. With early support from companies such as Coinbase Cloud and Figment, the liquid staking product will be governed in a decentralized manner with a broad and dispersed community of industry participants. Alluvial's liquid staking standard includes support for Ethereum (ETH), Polkadot (DOT), and now, Avalanche (AVAX).
According to Messari, Avalanche (AVAX) "showed signs of capturing market share versus top EVM-compatible chains across several key metrics over Q1." As of July 15, there is $2.77B total value locked on Avalanche. Thanks largely to two breakthroughs — Avalanche Consensus and Subnets — Avalanche has the speed, security, reliability, and scalability to power institutional web3 projects in fields including finance, insurance, payments, vehicles, entertainment, culture, and many more. Notable institutions already participating in the Avalanche ecosystem include Deloitte, Lemonade, Togg and other institutional DeFi players.
"It's exciting to be working with Alluvial to bring a truly DeFi-native feature to institutional clients. What was previously only accessible to the retail market will now be available to enterprises and institutions, providing them with a multitude of liquid staking options including Avalanche (AVAX)."
—JD Gagnon, Co-founder of Rome Blockchain Labs / BENQI
As DeFi founders on Avalanche, the Rome Blockchain Labs and BENQI teams have extensive knowledge and experience building and navigating within the space. Notable dapps launched by the team on Avalanche include BENQI's Liquidity Market — the second largest lending and borrowing protocol — and BENQI Liquid Staking. Additionally, BENQI's Liquid Staking asset (sAVAX) is deeply integrated across many major dapps on Avalanche including AAVE, Ribbon, Trader Joe, Platypus and Yeti.
Together with Alluvial and other industry participants, the Rome Blockchain Labs and BENQI teams are shaping a liquid staking protocol to serve the needs of institutions in a compliant, permissioned environment to address KYC/AML and other compliance requirements, all in a non-custodial product.
"We're thrilled to work with Rome Blockchain Labs (RBL) and the BENQI founders to add support for Avalanche to the multi-chain liquid staking standard. RBL and BENQI's deep experience with Avalanche, liquid staking and DeFi makes them a perfect fit for a collaboration with Alluvial. I'm looking forward to being part of the Avalanche community to enable a decentralized and secure foundation for the next generation of the internet."
—Matt Leisinger, CEO of Alluvial
What is Avalanche (AVAX) Liquid Staking?
Avalanche is a Proof-of-Stake (PoS) protocol with a Primary Network of 3 blockchains: the Exchange Chain (X-Chain), Platform Chain (P-Chain) and the Contract Chain (C-Chain).
The P-Chain is the metadata blockchain on Avalanche and coordinates validators within the Avalanche platform. Avalanche staking is done on this chain, where validators accrue network rewards in exchange for securing the Avalanche network. Validators secure the network by staking their AVAX asset for a minimum of 2 weeks. While rewards accrue to the validators' staked AVAX, the P-Chain locks the AVAX for a predetermined period.
The C-Chain supports the creation and execution of smart contracts that enable Decentralized Finance (DeFi) on Avalanche. Most of Avalanche's DeFi activity today, including asset tokenizing, swaps, and the use of other DeFi products, is done on this chain. The X-Chain is the Exchange Chain on Avalanche. It acts as a decentralized platform for creating and trading digital smart assets, with a set of rules that govern behavior.
Avalanche Liquid Staking provides a user-friendly solution to AVAX holders looking to participate in the consensus mechanism of Avalanche by staking AVAX. In return for staking AVAX, users will receive a receipt token that represents each user's ownership of the staked AVAX on the P-Chain. Users will be able to freely utilize the receipt token within DeFi on the C-Chain while the staked AVAX will continue to accrue rewards in exchange for securing the Avalanche network. Additionally, users will not need to go through the tedious process of cross-chain transfers between the C-Chain and P-Chain to stake their AVAX.
Users can stake or unstake AVAX at any time, subject to the 2-week staking minimum as described above. To unstake, there is a 15-day unstaking period and 2-day claiming window after the unstaking period. During the 2-day claiming window, users will be able to claim native AVAX.
"We're excited for Rome Blockchain Labs and Alluvial to bring the benefits of liquid staking to more institutions. Expanding participation in liquid staking makes the Avalanche network stronger, while giving enterprises a powerful-yet-compliant new DeFi option."
—Luigi D'Onorio DeMeo, Head of DeFi at Ava Labs
About Rome Blockchain Labs
Rome Blockchain Labs is bringing humanity to the digital world of blockchain. We at Rome Blockchain Labs believe in Decentralized Finance and a highly personal, integrous, abundant world on the blockchain. Understanding that opportunities are unlimited, Rome Blockchain Labs revolutionizes not only finance, but disrupts the future of work, the future of transparent autonomy, and the future of the digital world.
About BENQI
Built on Avalanche's highly scalable network, BENQI's vision of bridging decentralized finance (DeFi) and institutional networks starts by launching BENQI on the Avalanche C-Chain. BENQI's suite of DeFi protocols consists of the BENQI Liquidity Markets and BENQI Liquid Staking. BENQI's Liquid Staking protocol is a liquid staking solution that provides users with receipt tokens that represent each user's ownership of the staked AVAX. The receipt tokens grant users the ability to remain liquid and participate within other DeFi applications.
About Avalanche
Avalanche is the fastest smart contracts platform in the blockchain industry, as measured by time-to-finality. Avalanche is blazingly fast, low cost, and eco-friendly. Any smart contract-enabled application can outperform its competition by deploying on Avalanche. Don't believe it? Try an app on Avalanche today. https://www.avax.network/
Alluvial is a software development company supporting the development of the Liquid Collective protocol with enterprise APIs and development services. We're focused on the overall growth and maturity of the ecosystem by fostering participation in proof of stake blockchains. Learn more
---
Please note
Liquid staking via the Liquid Collective protocol and using LsETH involves significant risks. You should not enter into any transactions or otherwise engage with the protocol or LsETH unless you fully understand such risks and have independently determined that such transactions are is appropriate for you.
Any discussion of the risks contained herein should not be considered to be a disclosure of all risks or a complete discussion of the risks that are mentioned. The material contained herein is not and should not be construed as financial, legal, regulatory, tax, or accounting advice.