Q&A with Zied Brini, Alluvial's Delivery Director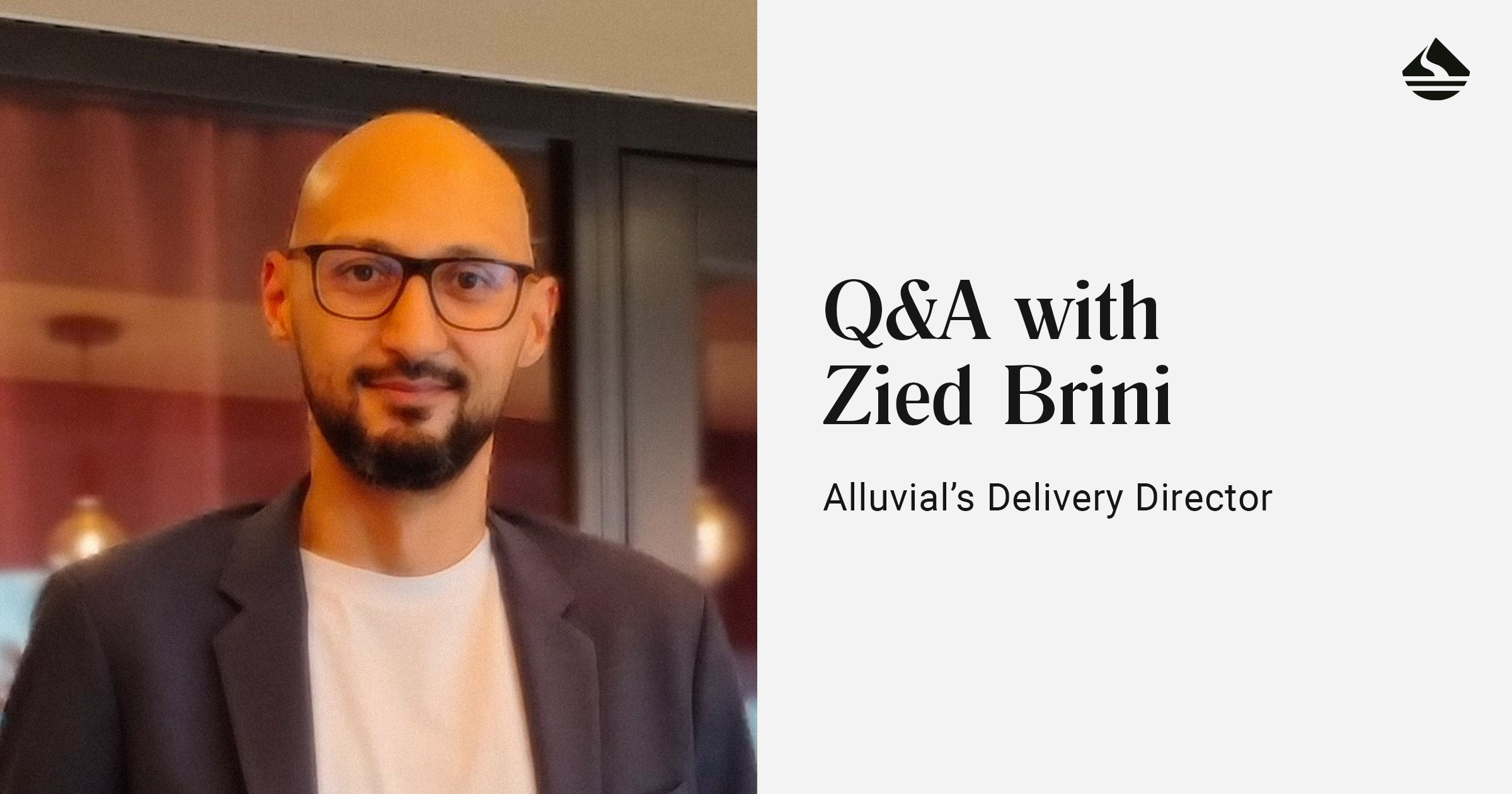 Q: Hi Zied! Please tell us about your professional background and how you started working in the crypto space. Was there an "aha" moment when the value of decentralized technology really "clicked" for you?
In 2011, I started my career as a data analyst for a major Canadian telco. My role was to provide analytics and insights to various internal stakeholders. I learned about databases, data models, and how to package data into a short story for non-technical audiences. My career evolved towards data modeling, data stewarding, and machine learning by producing content or managing projects. However, I realized I spent most of my time leading initiatives to "fix" data or package it in an acceptable but never totally accurate way. I felt I was not focusing on value-added activities as I spent my days fixing issues at a transactional level.
In 2017, while studying Information Systems in evening classes, I discovered Satoshi Nakamoto's white paper through one of my classmates, which was my "aha" moment. If data was immutable, I did not have to "fix" it anymore. I thought my career would take an exciting turn. And indeed, in April 2018, due to a combination of circumstances, I joined ConsenSys.
While at Consensys, you worked as a Program Manager for komgo. Can you tell us about the project and its relevance to Liquid Collective?
komgo aims to gather actors from the trade commodity finance industry to solve challenges of inefficiencies and fraud risk when trading with another. These actors realized they could not solve these issues independently; they had to collaborate even if they were sometimes competitors.
In 2018, some of these institutions were experimenting with blockchain/DLT technologies and decided to fund the komgo initiative, ConsenSys being the selected technology partner. Today, komgo is a fully-fledged enterprise-grade distributed platform that gathers 23 different shareholders, serving 220+ corporates and banks. Facilitating the delivery of komgo was not only about "shipping software" but also developing enterprise governance and building a product in constant collaboration with these several participants.
I see Liquid Collective as a similar experience, gathering leading actors in the staking ecosystem to build a standard. Although, I think the ambition of Liquid Collective is to push further decentralization with the protocol partners. From a technology standpoint, Liquid Collective ambitions to offer multiple public chains and ultimately be governed by an Enterprise DAO with a broad and diverse group of industry participants.
You also contributed to the launch of VillageDAO, the world's first decentralized customer care platform. Can you tell us more about the initiative and any learnings you took from this experience?
In 2021, during the boom of DeFi and NFTs, with exponential growth of ConsenSys' product usage, there was a corresponding growth in the need for support. Even with very efficient operations, you cannot scale as quickly as the demand for support in a traditional way, e.g., by hiring more support agents. The ConsenSys Customer Success team and their partner, LivePerson, had the idea of decentralizing user support by leveraging and incentivizing the community. The three starting requirements were to use blockchain technology, token economics, and DAO governance principles (and move away from Discord).
The ConsenSys Customer Success team needed a team to build the product and coordinate delivery between internal and external stakeholders. The ConsenSys Professional Services EMEA team acted as a "system integrator" for the Customer Success group. We owned the delivery and facilitated product conversations among technologists, token economists, and DAOists until the Customer Success team scaled its internal development capabilities.
From both the komgo and VillageDAO experiences, I learned that it is essential to clarify the roles and contributions of each participant at the start of the initiative. An ambiguity period that's too long can lead to significant delays in shipping a quality product. Also, the profile of each stakeholder is important: you want to have people who buy into the project and can help remove impediments in a world without a blueprint. Traditional processes and best practices cannot apply to these emerging decentralized delivery initiatives. Therefore, agility and flexibility are critical.
Furthermore, in a consortium, decision process timelines can be longer than in a one-to-one relationship. Some stakeholders could try to press, not acknowledging this specific context. It is essential not to confuse speed with precipitation. Finally, emotional intelligence and self-awareness are crucial to healthy work relations in a context where multiple parties need to cooperate rather than compete. There is no space for big egos.
What's the story of how you got connected with the Alluvial team? Why were you interested in joining?
When I look at my next move, I try to search for innovative initiatives. I joined the data analytics and machine learning world when it was still called reporting. I arrived at ConsenSys in the early days of enterprise blockchain consortia. komgo was the first enterprise blockchain to go to production when I was working on it. I like to work in uncharted territories because I feel I can express my creativity, and I can impact an ecosystem. I knew the next step for my career would come around the Merge.
Now for the irrational part of the journey. I focus on doing a good job daily, serving my stakeholders in their best interest, and being kind to them. With this focus, I know that sooner or later, the next exciting challenge will come to me. Alluvial's CTO, Nicolas Maurice and I were part of a Consensys team that won a hackathon in 2018. We never worked directly together but he saw how I evolved at ConsenSys through the years and thought I could be a good fit for Alluvial. My consortium experience with komgo and scaling product delivery capabilities for ConsenSys seemed relevant to Alluvial's ambition and voilà.
What are the responsibilities of a Delivery Director? What are you most excited about achieving in this role at Alluvial?
My primary role is to ensure smooth product delivery and integration by doing whatever is necessary to coordinate seamlessly between all the stakeholders involved in this adventure. I often see product teams with very bright individuals, e.g., great product thinkers and brilliant engineering minds, but with an inability to ship because of the lack of focus on ways of working, execution, and ultimately accountability. This is where I come in: I'm the "glue" between contributors, enabling and facilitating execution.
Depending on the context, my contributions can include everything from simple things such as suggesting "Hey, let's catch up at least once a week, so we stay in sync," to comprehensive roadmaps and release plans nailed down to the sub-task. I do not apply a specific blueprint and I prefer to adapt tools and practices for particular contexts and needs. What matters most is that everyone stays updated on where we are, what to do, and where we are heading.
I am excited to:
Build a top-class engineering team with my CTO from scratch.
Create and facilitate decentralized delivery frameworks with our protocol partners, lean execution, and focus on collaboration to ship great quality features.
Have the opportunity to contribute to scaling Alluvial beyond product delivery and engineering. In a new organization, everybody contributes!
Contribute to and nurture Alluvial's culture as one of the most fantastic places to work in the ecosystem!
How will you know if you are successful?
In an ideal scenario, I will be successful when I am no longer needed. Indeed, my role is to come to a group, help facilitate product delivery, and coach teams to be autonomous. The day a team is self-organized and satisfies all its stakeholders, I am no longer needed and can move on to the next one.
More holistically, I want Liquid Collective to be THE liquid staking standard for institutions and to be respected by the developer community. I want our protocol partners and users to be happy and, last but not least, for them to be happy team members. That's when I will know I am successful.
As someone who has hired and led large teams, what qualities, perspectives, or values do you look for in candidates during the interview process that transcends what you might see on a resumé?
In terms of an ideal candidate profile, I tend to appreciate candidates who have the following:
a contextual and holistic view of the product development process,
are genuinely team players (not just saying it for the interview),
and have decent emotional intelligence and awareness of others.
For example, suppose I hire a software developer. I'd like that individual to understand the implications of functional requirements, quality assurance, and site reliability engineering. I would apply the same logic if I had to hire a product manager. I'd want the candidate to understand Software Development Life Cycle (SDLC), be familiar with basic technical concepts such as logical architecture, and involve engineering teams in product making from its design.
In a time of globally distributed teams with several async conversations, you must regularly align on context to share a common understanding. Being kind to one another is also crucial. These are qualities that tend to lay robust foundations for high-performing teams.
What moment stands out in your memory of all the crypto conferences, community events, and launches you've been a part of? Why?
The moment that stands out so far in my memory is the celebration of komgo's first production release in January 2019. With a few komgo and ConsenSys/partners colleagues, we organized a 5-days "retreat" for 90 people in Belgrade, Serbia to celebrate the release.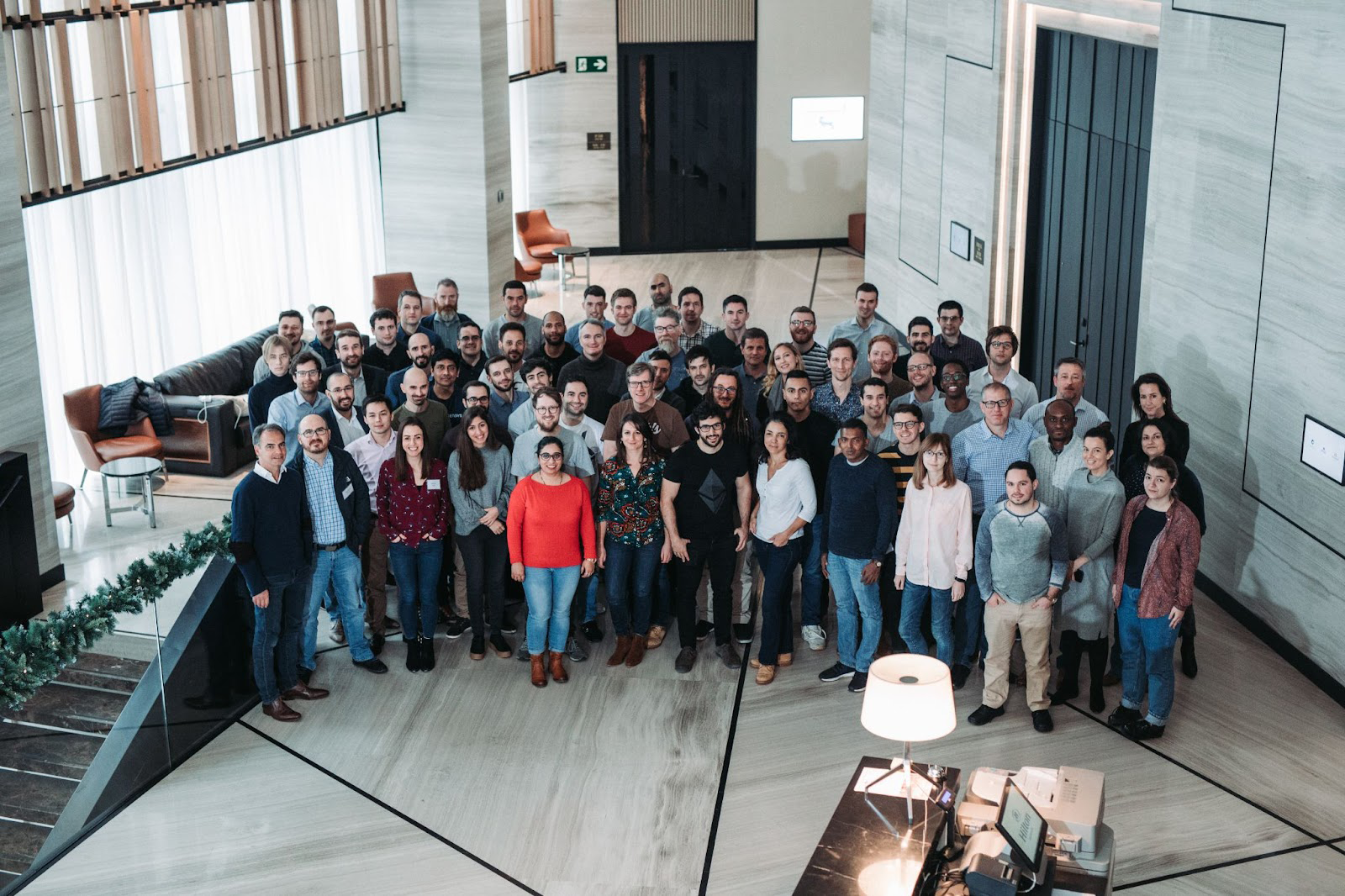 This event stands out because we were in uncharted territories from both functional and technical standpoints. We had a go-to-market imperative to deliver quickly. Both komgo and ConsenSys were young organizations as well, and we were scaling at the same time within a brief timeframe. We did it, but couldn't imagine the path to get there. So the level of celebration was proportional to the amount of work provided. As for the celebration itself, what happened in Belgrade stays in Belgrade!
Otherwise, I enjoy organizing face-to-face gatherings with my teams when I can and organizing activities that have nothing to do with work. The last event I organized was a beach paddle tournament in Barcelona, Spain.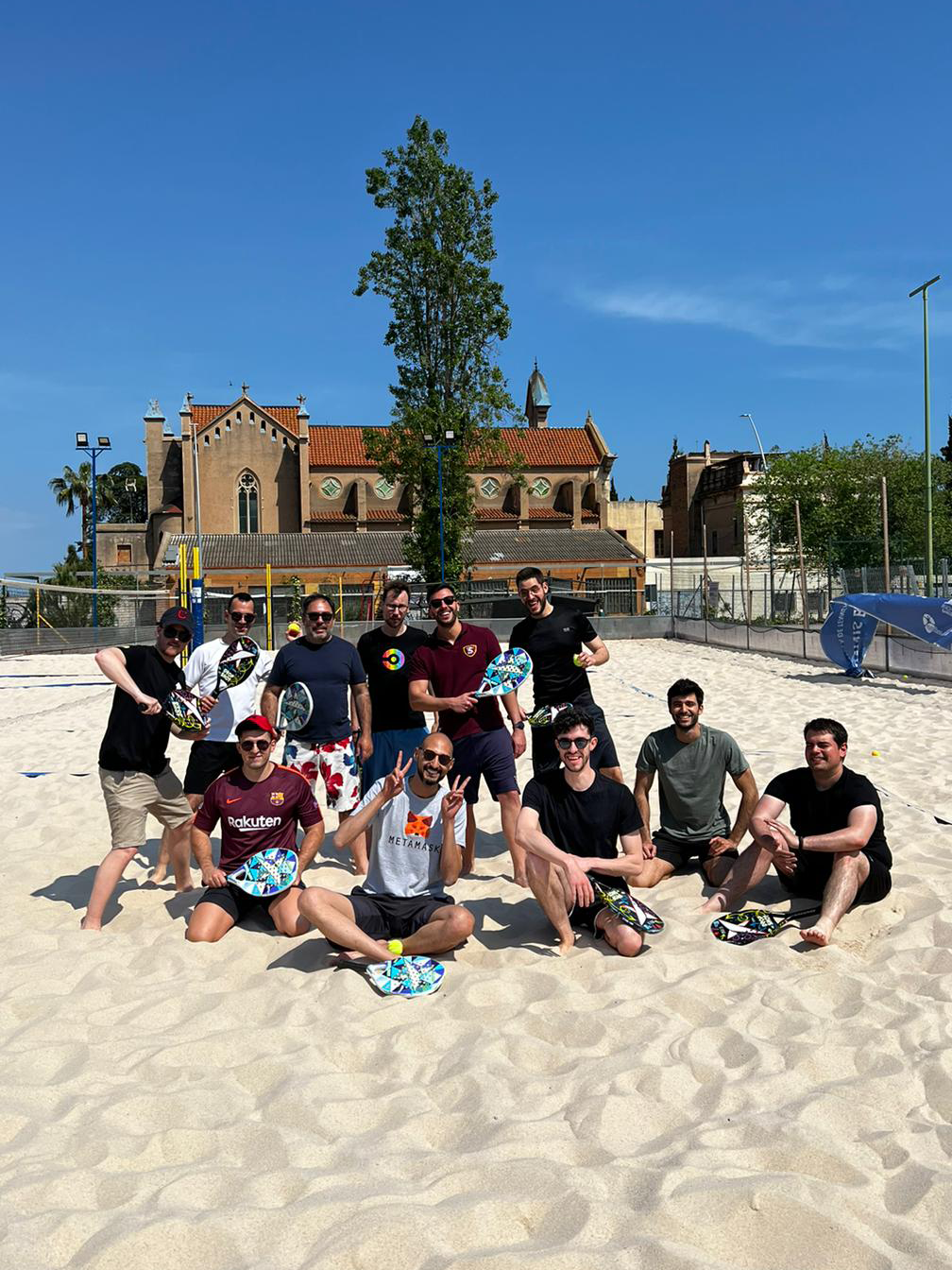 I also love attending crypto conferences and community events when I can. In 2022, I enjoyed EthDubai in March, BlockSplit in Croatia in May, and EthBarcelona in July because they each had a particular local spirit. I love to travel and discover other cultures and I appreciate when a crypto event ties its activities to local customs.
For example, when local people want to have a party in Split, they always seem to know someone with access to a boat. They go for the day with some music, food, and drinks to tour the islands. BlockSplit organized that local event for speakers; it was cool to experience it.
You've lived in many different parts of the world and are actively engaged in various crypto communities. What is the crypto community like in the GCC region? How does it compare to other communities you've been a part of?
I have been working with people from the MENA region since June 2021, and I moved permanently to the UAE in mid-September 2022. Humbly, I haven't been "on the ground" long enough to propose a detailed perspective. However, I could provide a sneak peek.
My perception is that the crypto scene in France, for example, is very dynamic. The French community lobbies heavily to convince local and regional institutions to create a more favorable environment for digital assets and blockchain-based initiatives. UAE authorities communicate regularly on how welcoming they are to crypto companies.
My impression is that they believe in hassle-free processes to attract the best talent and to develop innovative legislation for welcoming digital assets. The Government of Dubai launched a dedicated government body for virtual assets. Like the first crypto boom in 2017-2018, there is much effervescence and plenty of events and meetups. However, as usual, there can also be some noise.
When arriving in a new country, I stick to the basics like finding the local group of broader organizations, such as the Ethereum Foundation. I attended the first edition of EthDubai in March 2022, and the same group of people is organizing Web3Dubai in November, which aims to include multiple chains. I look forward to meeting more people in the UAE and the GCC region. If you're active in these communities, and you'd like to connect, please reach out!
Do you see opportunities for increased participation or adoption of decentralized technology in this area of the world?
According to Chainanalysis, the MENA region was the fastest-growing crypto market between June 2021 and June 2022, representing 7% of global crypto volumes today. It is barely starting. Considering the momentum created for "Dubai to be the next capital of crypto," this all sounds promising. As with everything, it comes down to the execution. But the United Arab Emirates has a reputation for executing its initiatives well, so I'm feeling positive considering the current context.
Lastly, any other projects you're excited about that you'd like to share?
I like sustainable fashion and I like sneakers. I am following a French shoemaker and A.D., Eugène Riconneaus, who created sneakers from marine litter. He calls his new models "updates" rather than "collections," and he comes from skater culture. He presented ER (soulier) on September 21st at the Museum of Modern Art in New York. I am following him closely 😊
Thank you Zied!
---
Interview by Mark Forscher