Liquid Staking Protocol Liquid Collective Launches on Coinbase Prime and Bitcoin Suisse
Alluvial announced the launch of Liquid Collective, the enterprise-grade liquid staking protocol, along with Coinbase Prime and Bitcoin Suisse, where the protocol is now live for participation.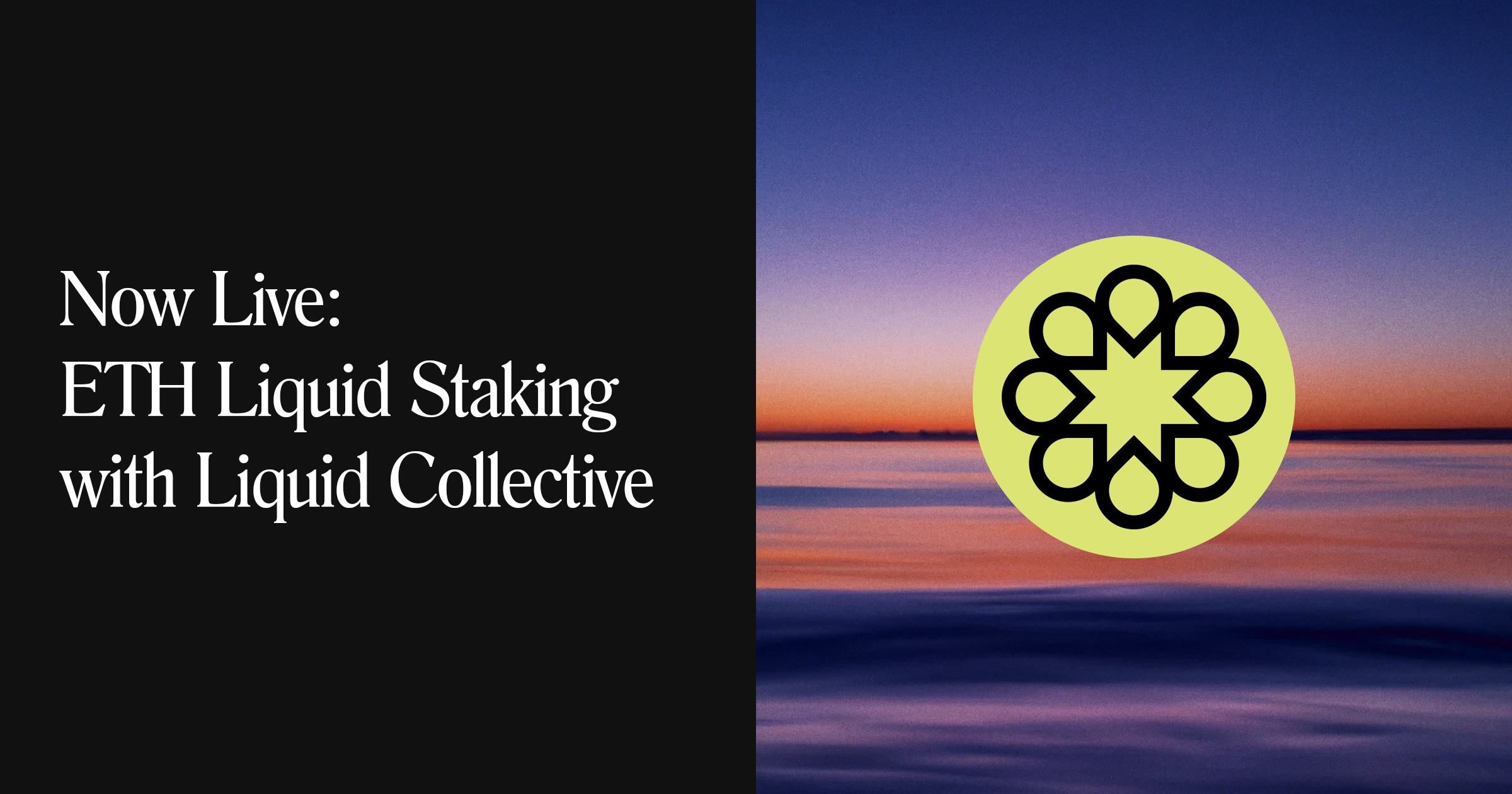 March 7 2023 — Alluvial (alluvial.finance) announced the launch of Liquid Collective (liquidcollective.io), the enterprise-grade liquid staking protocol, along with Coinbase Prime and Bitcoin Suisse, where the protocol is now live for participation.
Starting today, the institutional customers across Coinbase Prime and Bitcoin Suisse—two of the industry's leading institutional crypto platforms—will be able to access Liquid Collective's liquid staking solution to stake Ethereum (ETH) and use the liquid staking token generated by the protocol, Liquid Staked ETH (LsETH), to participate in web3 and decentralized finance (DeFi). LsETH trading will also be available on Coinbase, in most jurisdictions, when liquidity conditions are met.
The LsETH liquid staking token can be transferred, stored, traded, and utilized in DeFi while LsETH holders continue to accrue network rewards for helping secure the Ethereum network. In addition, all LsETH holders receive coverage against slashable events via built-in coverage.
"Currently, just over 14% of the entire Ethereum supply is being staked, but before more institutional investors can reasonably participate, those staking ETH will need to be able to use it in other ways while still meeting their compliance requirements," said Matt Leisinger, Co-Founder and CEO of Alluvial, a company supporting the Liquid Collective protocol's development. "The launch of Liquid Collective will bridge that gap and meet the demand growing among institutional clients looking to participate in the security of the Ethereum network, without sacrificing liquidity."
Traditionally, staking ETH comes with several tradeoffs, as stakers must weigh the opportunity cost of locking up their tokens to stake on a given network rather than using them in DeFi or other decentralized applications (dApps). Now, institutions don't have to consider these tradeoffs, as liquid staking offers a way to stake with access to liquidity and increased capital efficiency. Liquid Collective provides a decentralized and non-custodial approach to enterprise-grade liquid staking, addressing the need for the highest level of security and compliance while promoting composability and ecosystem standardization.
"Liquid Collective is uniquely positioned to offer an enterprise-grade liquid staking product with robust slashing coverage and a forward-looking compliance approach to our institutional clients. We're excited to support this new liquid staking standard as part of our multi-product strategy," says Aaron Schnarch, Vice President of Custody at Coinbase.
The Liquid Collective protocol offers an API-first solution that enables Integrators like Coinbase Prime and Bitcoin Suisse to offer access to ETH liquid staking to their customers. All users minting LsETH through the Liquid Collective protocol, regardless of exchange, custodian, or multi-wallet Integrator used, undergo KYC and AML compliance checks before the point of deposit and withdrawal. Liquid Collective partners with Exiger, a premier software and tech-enabled governance, risk, compliance and diligence solutions firm, as its exclusive partner to perform compliance program reviews, AI-enabled open-source screening and due diligence of participants.
"The AML and KYC compliant solution by Liquid Collective enables us to provide higher capital efficiency and liquidity to our Swiss institutional clients. As the first Swiss-incorporated Liquid Collective Integrator, Bitcoin Suisse is proud to participate in the further institutionalization of crypto-financial services in Switzerland for the benefit of the crypto ecosystem," added Michael Gauckler, Chief Product Officer at Bitcoin Suisse.
In addition to meeting institutional customers' needs for secure and compliant liquid staking, Liquid Collective is also powered by a diverse set of proven validator service providers including Coinbase Cloud. Liquid Collective's Ethereum development was led by Kiln, the protocol's Ethereum Technology Provider, with support from Alluvial. Kiln is an industry-leading enterprise staking provider.
In addition, all LsToken holders will have access to Liquid Collective's slashing coverage offering that provides coverage for network-wide and validator-specific slashing events through Liquid Collective's partnership with Nexus Mutual, a top provider of decentralized crypto-native protection. All LsETH holders receive broad coverage against slashable events, such as network outages and node operator failures simply by holding LsETH. Liquid Collective's slashing coverage treasury is supported via the protocol's service fee.
You can read more about the launch of Liquid Staked ETH (LsETH) on Coinbase Prime and Bitcoin Suisse here. The LsETH token address can be verified on Etherscan here.
---
About Liquid Collective
Alluvial, along with a broad and dispersed group of ecosystem participants, announced Liquid Collective in September. Developed in collaboration with a diverse group of industry leaders, Liquid Collective is designed to meet the need for an enterprise-grade decentralized liquid staking standard that can be widely adopted, increasing liquidity and composability for the web3 economy.
Liquid Collective is the secure liquid staking standard: a protocol with multi-chain capabilities designed to meet the needs of institutions, built and run by a collective of leading web3 teams. You can learn more here: https://liquidcollective.io/
About Alluvial
Alluvial is a software development company supporting the development of the Liquid Collective protocol. Alluvial is building the industry standard for enterprise-grade liquid staking, combining institutions' technical and security requirements with the web3 ethos of community-driven collaboration. You can learn more here: https://alluvial.finance/.
About Coinbase Prime
Coinbase Prime is the leading institutional prime broker platform for crypto assets. Coinbase Prime is a fully integrated platform built specifically for institutions to support the entire transaction lifecycle including advanced multi-venue agency trade execution for 200 assets, custody for more than 360 assets, financing, staking and staking infrastructure, data and analytics, and reporting.
Institutions can access Coinbase Prime directly via a user interface or as an integrated platform via APIs to offer crypto related products such as ETPs and ETFs, custodial solutions, or brokerage for their institutional, private wealth, and retail clients.
To learn more about Coinbase Institutional's solutions, including more information about Coinbase Prime, click here.
About Bitcoin Suisse
Founded in 2013, Bitcoin Suisse Ltd is the Swiss crypto-finance and technology pioneer and market leader. The crypto-financial services provider offers brokerage, custody, lending, staking, payment solutions and other crypto-related services for private and institutional clients. As a member of the self-regulatory organization Financial Services Standards Association (VQF), Bitcoin Suisse is a financial intermediary subject to Swiss AML/CFT regulations. Bitcoin Suisse consists of several companies under the parent company BTCS Holding Ltd. The company is headquartered in Zug and has built a team of over 200 highly qualified experts in Switzerland and Europe. You can learn more here: https://bitcoinsuisse.com/
---
Bitcoin Suisse Disclaimer
The information provided in this document pertaining to Bitcoin Suisse AG and its Group Companies (together "Bitcoin Suisse") is for general informational purposes only and should not be considered exhaustive and does not imply any elements of a precontractual or contractual relationship nor any offering. This document does not take into account, nor does it provide any tax, legal or investment advice or opinion regarding the specific investment objectives or financial situation of any person. While the information is believed to be accurate and reliable, Bitcoin Suisse and its agents, advisors, directors, officers, employees, and shareholders make no representation or warranties, expressed or implied, as to the accuracy of such information, and Bitcoin Suisse expressly disclaims any and all liability that may be based on such information or errors or omissions thereof. Bitcoin Suisse reserves the right to amend or replace the information contained herein, in part or entirely, at any time, and undertakes no obligation to provide the recipient with access to the amended information or to notify the recipient hereof. The information provided is not intended for use by or distribution to any individual or legal entity in any jurisdiction or country where such distribution, publication or use would be contrary to the law or regulatory provisions or in which Bitcoin Suisse does not hold the necessary registration, approval, authorization or license, in particular in the United States of America including its territories and possessions. Except as otherwise provided by Bitcoin Suisse, it is not allowed to modify, copy, distribute, transmit, display, reproduce, publish, license, or otherwise use any content for resale, distribution, marketing of products or services, or other commercial uses. Bitcoin Suisse 2023.
Coinbase Disclaimer
Coinbase is a founding member of the Liquid Collective and has a financial and reputational interest in Liquid Collective's success. Through its participation in Liquid Collective, Coinbase may propose, approve, or otherwise influence changes to underlying blockchain protocol. Coinbase will earn fees from your use of Liquid Staking Services offered by Liquid Collective through revenue sharing.
---
Please note
Liquid staking via the Liquid Collective protocol and using LsETH involves significant risks. You should not enter into any transactions or otherwise engage with the protocol or LsETH unless you fully understand such risks and have independently determined that such transactions are is appropriate for you.
Any discussion of the risks contained herein should not be considered to be a disclosure of all risks or a complete discussion of the risks that are mentioned. The material contained herein is not and should not be construed as financial, legal, regulatory, tax, or accounting advice.