Evan Weiss Joins Alluvial as Head of Business & Policy
Legal, regulatory, and business expert joins Alluvial to further empower global participation in securing the decentralized internet.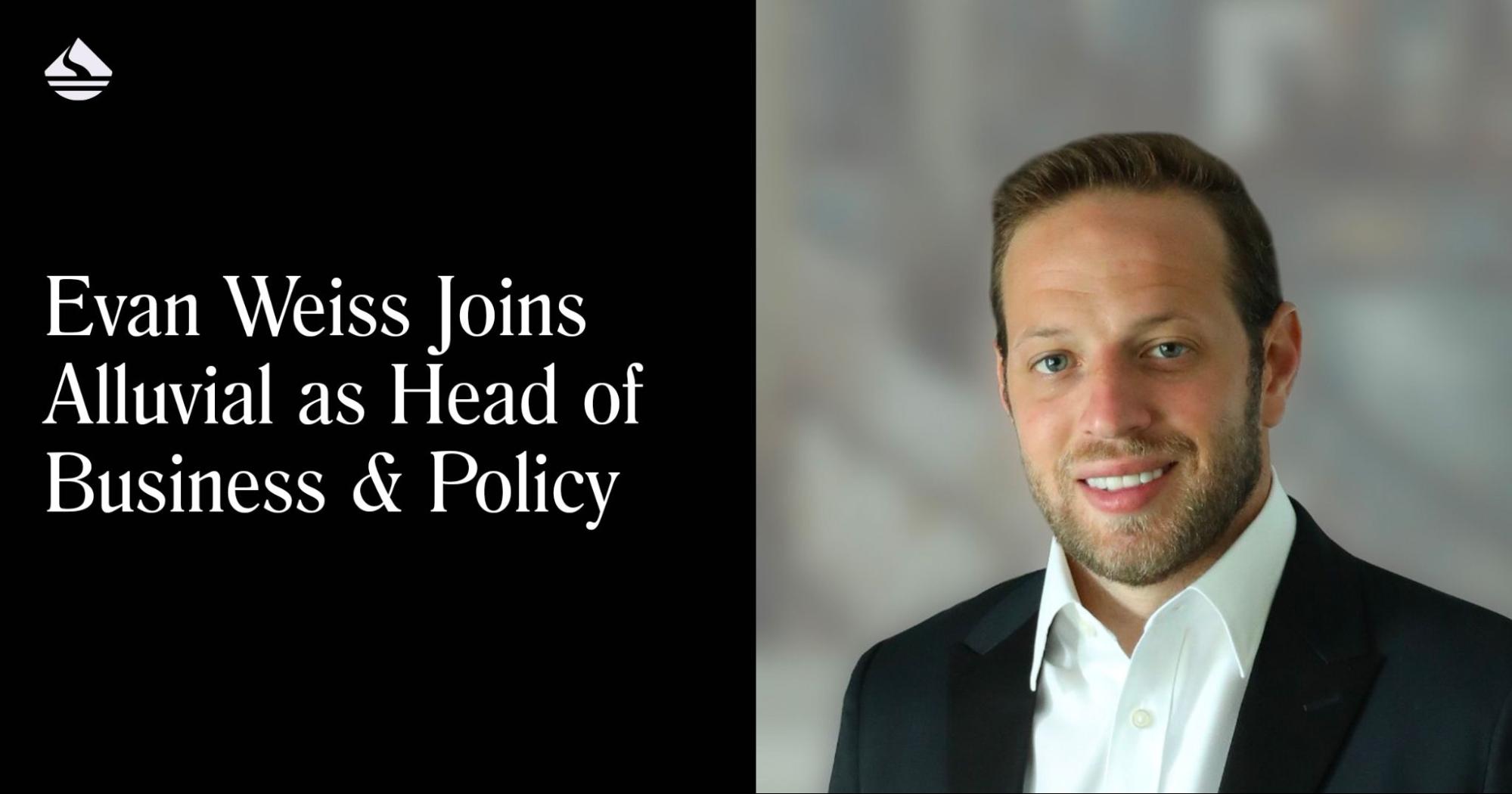 We are excited to announce that Evan Weiss joined Alluvial as Head of Business & Policy to advance the company's vision to empower global participation in securing the decentralized internet.
Evan joins Alluvial from Coinbase where he served as Business Development Lead for Coinbase Cloud, the leading developer platform for blockchain-based infrastructure products and APIs, and oversaw the business teams for Coinbase's wallet-as-a-service launch. Prior to Coinbase, Evan was Head of Business Operations at Bison Trails. At Bison Trails Evan led sales, business, protocol operations, and customer success teams that encouraged enterprises and institutional investors to participate in decentralized networks with over $30B in assets staked by November 2021, in addition to creating the first-ever centralized staking insurance offering and fostering other PoS business innovations.
Notably, Evan is the founder of POSA (Proof of Stake Alliance), the action-oriented, nonprofit industry alliance that has advocated for forward-thinking public policies to foster innovation in proof of stake ecosystems since 2019. During Evan's time on POSA's leadership team POSA has driven action to develop legal frameworks for staking, staking-as-a-service industry principles, and the fair taxation of staking rewards. Evan's work with POSA has included contributing to the first legal research on staking regulation in the United States along with publishing the first legal research to address the regulatory and tax considerations of liquid staking in the United States.
"In addition to his experience building out a successful business team at the world's largest staking provider, Evan Weiss has a years-long track record of leading initiatives that have brought billions of dollars into the proof of stake ecosystem. Through the founding of POSA, Evan's leadership in staking policy and regulation has shaped the conversation for the ecosystem as a whole, and his deep expertise in staking policy is unmatched," said Mara Schmeidt, CEO and Co-Founder of Alluvial. "We are thrilled that Evan has joined Alluvial as Head of Business & Policy to expand our company's mission to foster participation in proof of stake blockchains."
Evan's perspective on the policy and regulatory landscape surrounding liquid staking and proof of stake ecosystems is unique. A Juris Doctor of Law and former corporate lawyer, his work in the crypto ecosystem began with research on the taxation of staking rewards alongside Abraham Sutherland. Evan's thought leadership has included a focus on the taxation of staking rewards, enterprise participation in ETH staking, and expanding web3's accessibility.
Evan is passionate about advancing the traction of proof of stake ecosystems, advocating for clear regulation, and scaling teams of experts to achieve the goals of startups and corporations alike. As an advisor to Alluvial, Evan has been involved in supporting the company's mission since its inception. He brings a deep familiarity with the liquid staking space, along with the policy and regulatory environment surrounding it, to his full-time role in the development company's executive leadership.
As part of our mission to collectively build the most trusted and secure liquid staking standard, Alluvial will focus on the emerging policy landscape that impacts all businesses working in the proof of stake ecosystem while collaborating with industry-leading partners globally.
In his role as Alluvial's Head of Business & Policy, Evan will be overseeing sales, customer success, business development, and all relevant legal workstreams, including policy and compliance, for the company.
About Alluvial
Alluvial is a software development company supporting the development of the Liquid Collective protocol. Alluvial is focused on the overall growth and maturity of the ecosystem by fostering participation in proof of stake blockchains. Learn more at alluvial.finance.
---
Please note
Liquid staking via the Liquid Collective protocol and using LsETH involves significant risks. You should not enter into any transactions or otherwise engage with the protocol or LsETH unless you fully understand such risks and have independently determined that such transactions are is appropriate for you.
Any discussion of the risks contained herein should not be considered to be a disclosure of all risks or a complete discussion of the risks that are mentioned. The material contained herein is not and should not be construed as financial, legal, regulatory, tax, or accounting advice.