Alluvial Reveals Liquid Collective as Kraken Joins the First Enterprise-Grade Multi-Chain Liquid Staking Protocol
Staking and security leader Kraken joins independent industry consortium to build, secure, and support Liquid Collective's enterprise-grade liquid staking protocol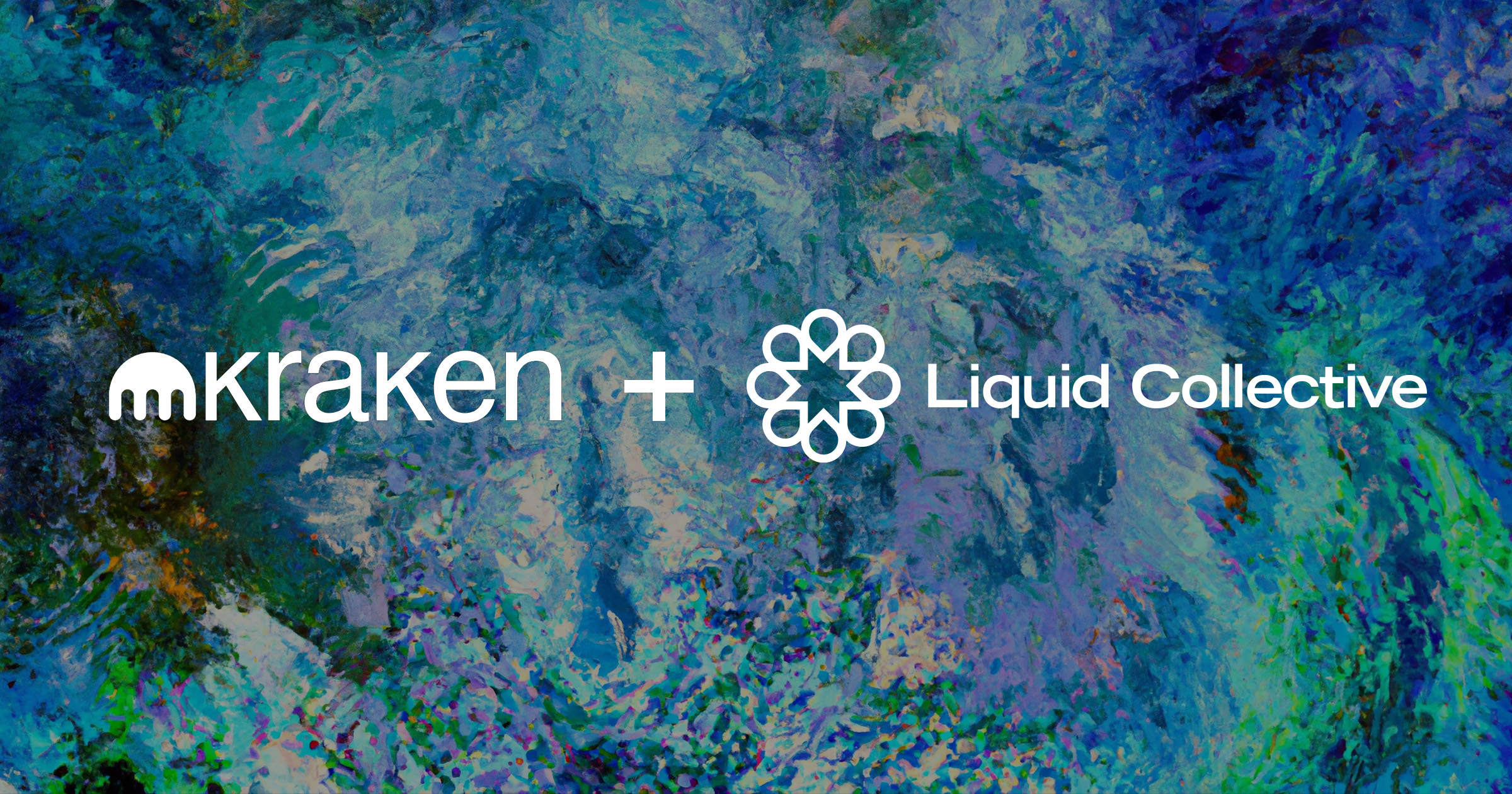 We're thrilled to share a lot of exciting news.
Introducing Liquid Collective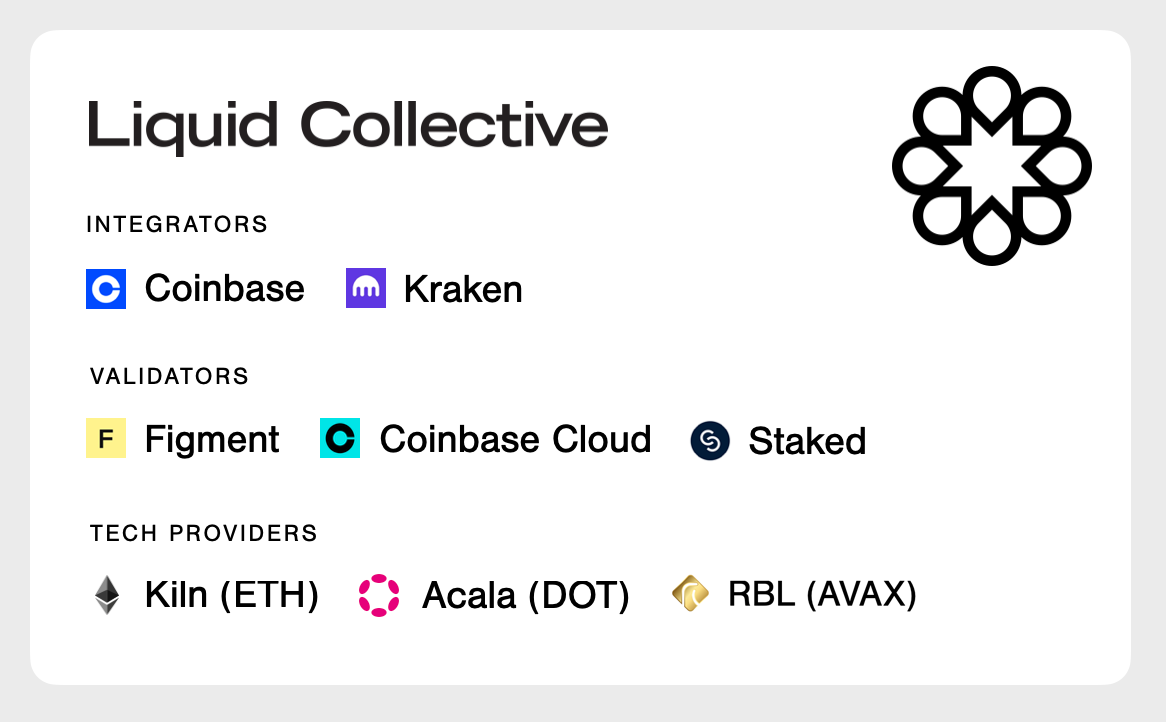 Liquid Collective is the secure liquid staking standard: a protocol with multi-chain capabilities designed to meet the needs of institutions, built and run by a collective of leading web3 teams including The Liquid Foundation, Alluvial, Coinbase Cloud, Figment, Kiln, Rome Blockchain Labs, Kraken, Staked, and other web3 industry participants. Liquid Collective will be governed in a decentralized manner by a broad and dispersed community of industry participants.
"Proof of Stake blockchains make up more than half of the entire crypto market cap, yet, there hasn't been a viable option for institutional token holders to participate in liquid staking. With the upcoming launch of Liquid Collective, token holders gain seamless access to enterprise-grade liquid staking. This effort can only be accomplished through true collaboration across the ecosystem. We're proud to be working with some of the best teams in web3 to launch

Liquid Collective."
— Matt Leisinger, CEO and Co-Founder of Alluvial
Vision
To empower global participation in securing the decentralized internet.
Mission
To collectively build the most trusted and secure liquid staking standard.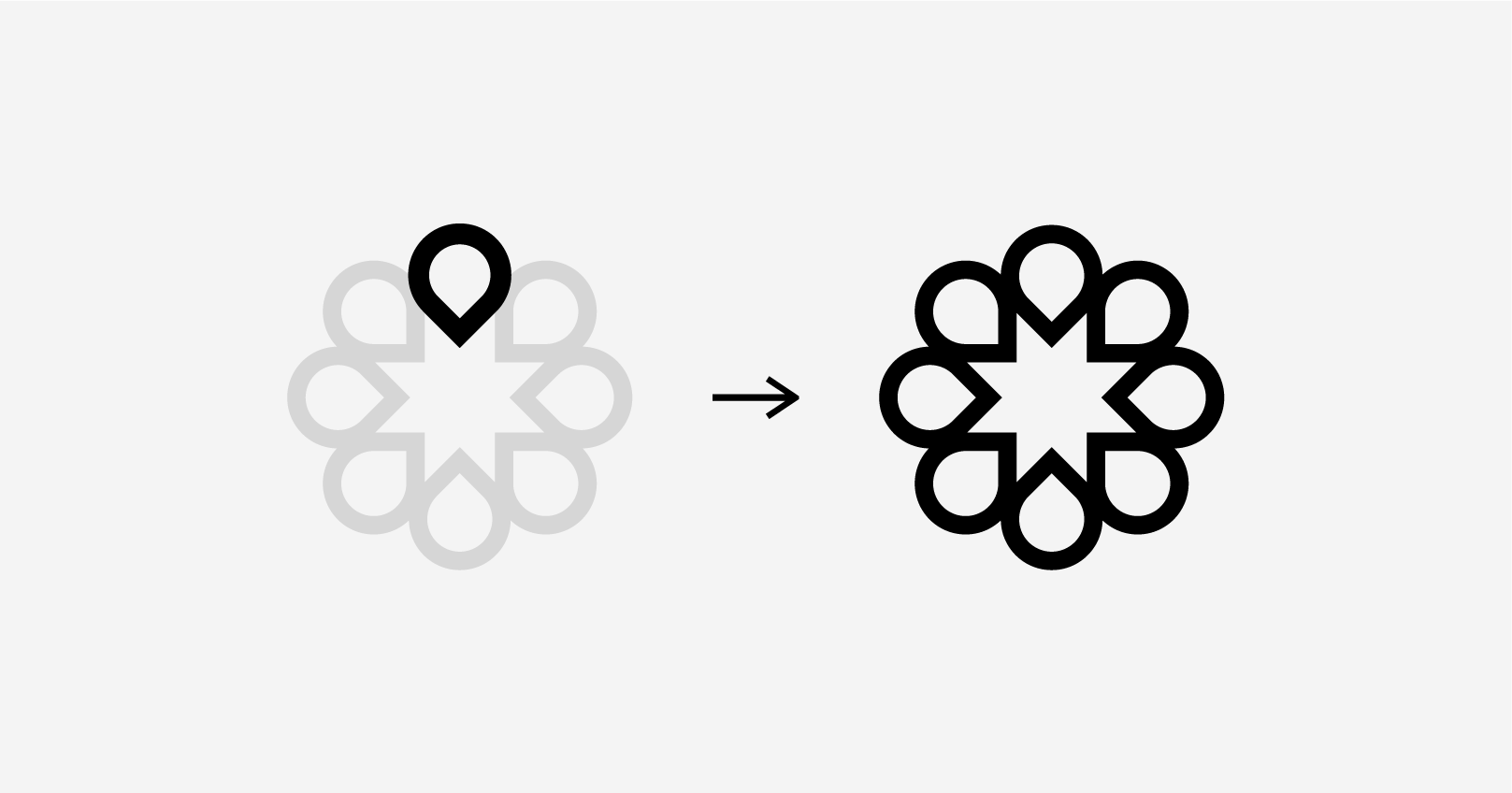 Kraken Joins Liquid Collective
Kraken, one of the world's leading cryptocurrency platforms, joins a growing list of industry leaders to establish an ecosystem standard that would enable prominent integrators (i.e. trading venues and custodians) to offer liquid staking to enterprise and institutional customers with KYC/AML checks, enterprise-grade security, and robust monitoring and reporting. Over the last decade, Kraken has established itself as one of the world's largest and most-trusted cryptocurrency platforms.
Why is Kraken Joining Liquid Collective?
Kraken joins Liquid Collective to support the protocol's mission to collectively build the most trusted and secure platform for liquid staking that will seek to provide an industry-wide liquid staking standard.
Need for an industry-wide enterprise-grade standard

Many liquid staking protocols currently available do not meet the needs of enterprises. Liquid Collective, a multi-chain liquid staking standard, seeks to address the need for the highest guarantees of security and KYC/AML checks for institutions, web3 native enterprises, and other regulated entities to meet regulatory obligations and best practices while unlocking new liquidity and increased capital efficiency on leading proof of stake blockchains.

Security-first posture

As one of the world's largest and most-secure cryptocurrency platforms, Kraken is committed to working with an independent industry consortium to ensure the new liquid staking standard is secure and easily accessible for interested enterprise and institutional participants.

Staking industry leader

Further solidifying Kraken's commitment and position as an industry-leading provider of staking services to consumers and institutions, Kraken acquired Staked last year, a non-custodial staking provider that enables participants in proof of stake networks to quickly and securely stake their holdings by expanding the number of supported networks and enabling a non-custodial alternative to Kraken's existing custodial staking service. Staked will join Liquid Collective as an additional validator, alongside Coinbase Cloud and Figment.
"Liquid staking grew from 1 percent to around 30 percent of the Ethereum staking market segment just this year alone. Demand is growing rapidly, and institutional interest is emerging. There is a need for standardization and, as a result, an opportunity for Kraken to help build the most secure enterprise-grade liquid staking standard."
— Tim Ogilvie, Product Director, Head of Staked at Kraken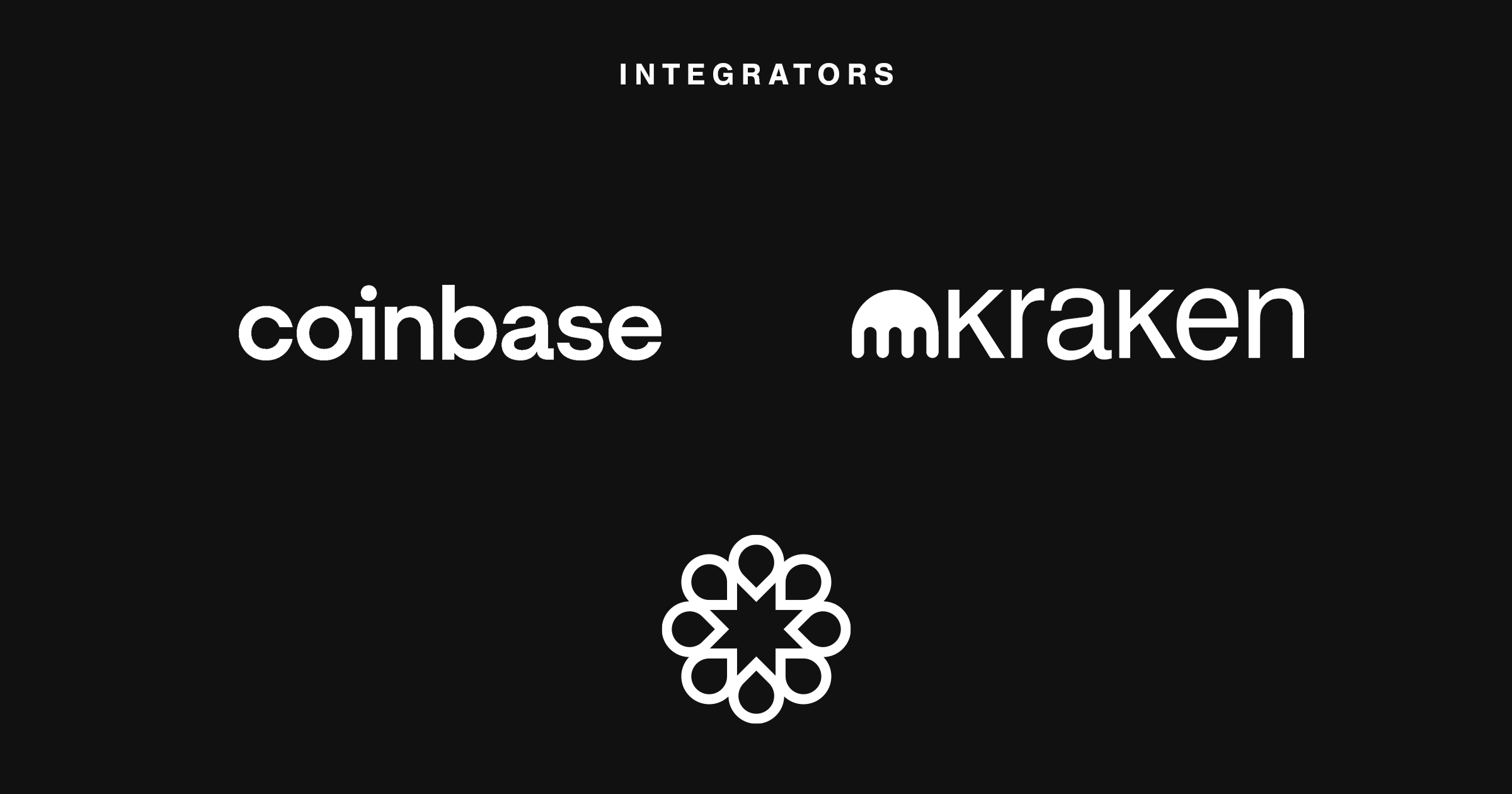 Are you a custodian or trading venue interested in joining Liquid Collective as an integrator? Get in touch.
Liquid Staking 101
Liquid staking is a rapidly growing alternative to traditional staking as it allows users to lock-up or "stake" their tokens and contribute to the security of proof-of-stake blockchains while also providing them with liquidity in the form of receipt tokens that evidence ownership of the associated staked tokens and can be transferred without unstaking the associated staked tokens.
Whereas traditional staking methods are subject to bonding and lock-ups known as bonding and unbonding periods (ranging from days to weeks), liquid staking provides stakers with increased liquidity and capital efficiency.
Receipt tokens can be transferred, stored, traded, and utilized in DeFi or supported dapps.
"We believe liquid staking is a natural primitive on top of staking, unlocking liquidity and collateral use for staked positions. However, we understand from speaking to Kiln's institutional customer base that their compliance and security needs are not met in the liquid staking market. We also understand the importance of thriving competition at this layer of the Ethereum ecosystem to promote Ethereum's decentralization. For these reasons, we are thrilled to be bringing Liquid Collective to market."
— Laszlo Szabo, CEO at Kiln
Halborn audit results
Alluvial engaged Halborn, a leading blockchain security firm, to conduct a security audit on Liquid Collective's Ethereum liquid staking smart contracts to ensure that the smart contracts operate as intended and to identify potential security issues.
The Alluvial, Kiln, and Figment teams remediated the issues identified during the audit process and received final validation from Halborn.
Please visit this link to view the final audit report with all results and findings.
More about the Liquid Collective protocol
High security and compliance standards
With Liquid Collective's enterprise-grade validator set, users are able to stake via security-focused infrastructure providers
Initial node operators in the Liquid Collective operate multi-cloud, multi-region, and multi-client infrastructure
Built for enterprises and institutional participants
Mandatory KYC/AML for users and operators facilitates compliance
API-first solution provides a frictionless onboarding path for integrators
cToken design on Ethereum allows customers to control their network reward flow
Native multi-chain access
Liquid Collective is collaborating with top teams on other blockchains to provide a native liquid staking solution on each network
"Liquid Collective brings together the best of different worlds. We built a liquid staking protocol on Ethereum that meets enterprise needs in collaboration with Kiln and Figment, both experts of validator infrastructure and onchain staking protocols. We worked closely with the security team at Halborn to audit the smart contracts. Onwards, we will keep extending the set of teams we work with to provide the most secure and valuable solutions to our users."
— Nicolas Maurice, Co-Founder & CTO at Alluvial
LsETH — Liquid Staked ETH
On the Liquid Collective protocol, stakers receive LsETH to evidence their ownership of staked ETH tokens.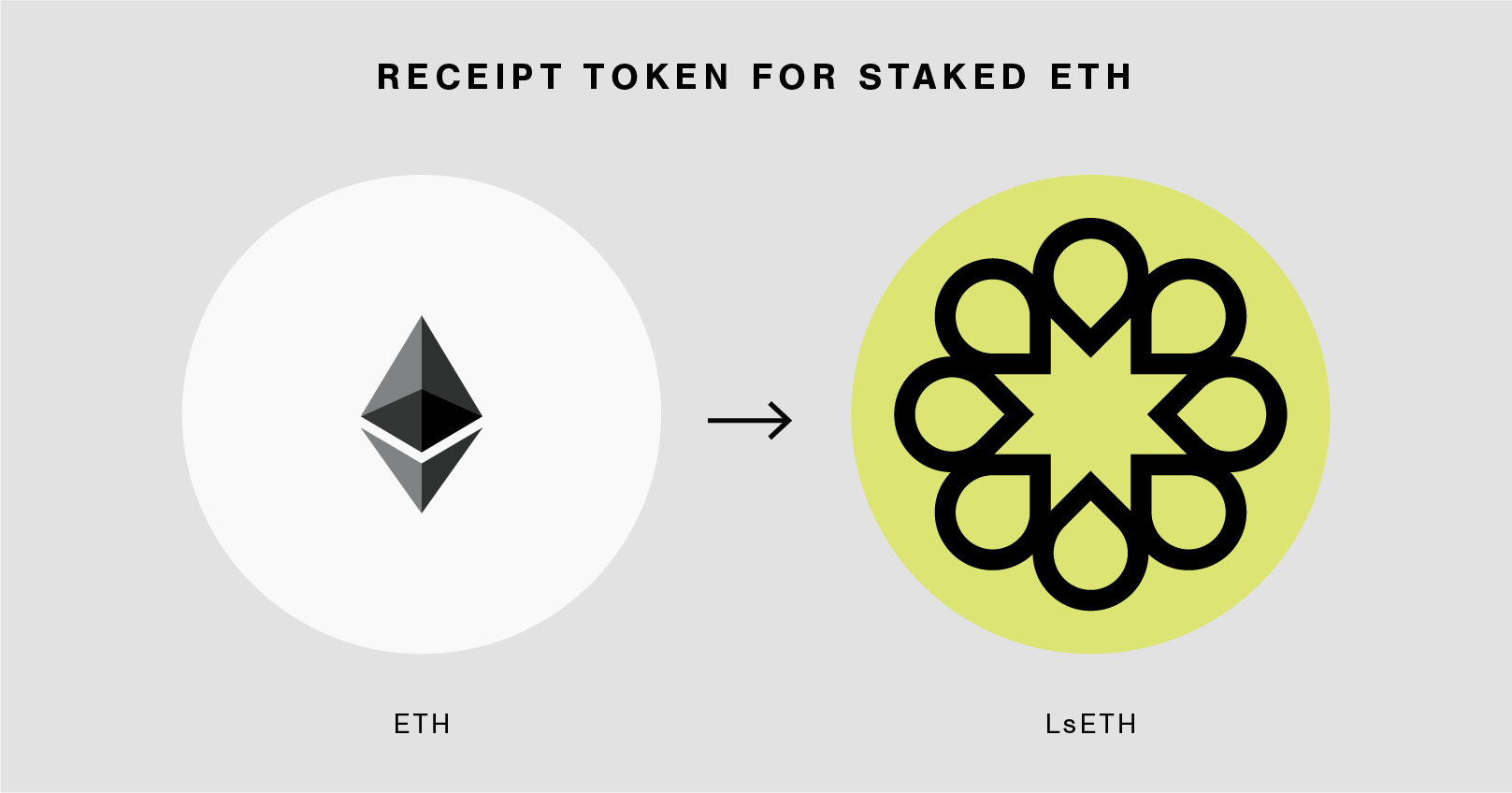 "Liquidity is a critical component of a maturing web3 economy, and we are excited to be a part of a group of industry leaders tackling one of the most rapidly growing yet nascent segments of the market together: liquid staking. We're looking forward to supporting the upcoming launch of the Liquid Collective protocol and to collaborating on industry-wide standards like LsETH."
— Surojit Chatterjee, Chief Product Officer at Coinbase
LsToken model
LsTokens create a single user-friendly receipt token standard vs. the current "alphabet soup" of receipt tokens that exist in web3 today
An open system encourages composability of Liquid Collective's receipt token, unlocking numerous potential use cases
Receipt tokens require liquidity to gain mainstream adoption. Liquid Collective aims to become a standard through collaboration with industry leaders and for LsTokens, such as LsETH, to become the most utilized and adopted token standard in the industry
Platform-specific solutions have historically not gained traction relative to industry standards. The stablecoin market is an excellent example of this
"The level of confidence for stakeholders is stronger in a multi-provider liquid staking network. Liquid Collective unites the leaders in protocol staking to deliver the highest quality solution that represents the best interests of the community."
— Lorien Gabel, Co-Founder & CEO, Figment
Liquid Collective Validators
With Liquid Collective's enterprise-grade validator set, staking rewards are generated by security-focused infrastructure providers. Initial node operators in Liquid Collective, such as Coinbase Cloud, Figment, and Staked, operate multi-cloud, multi-region, and multi-client infrastructure.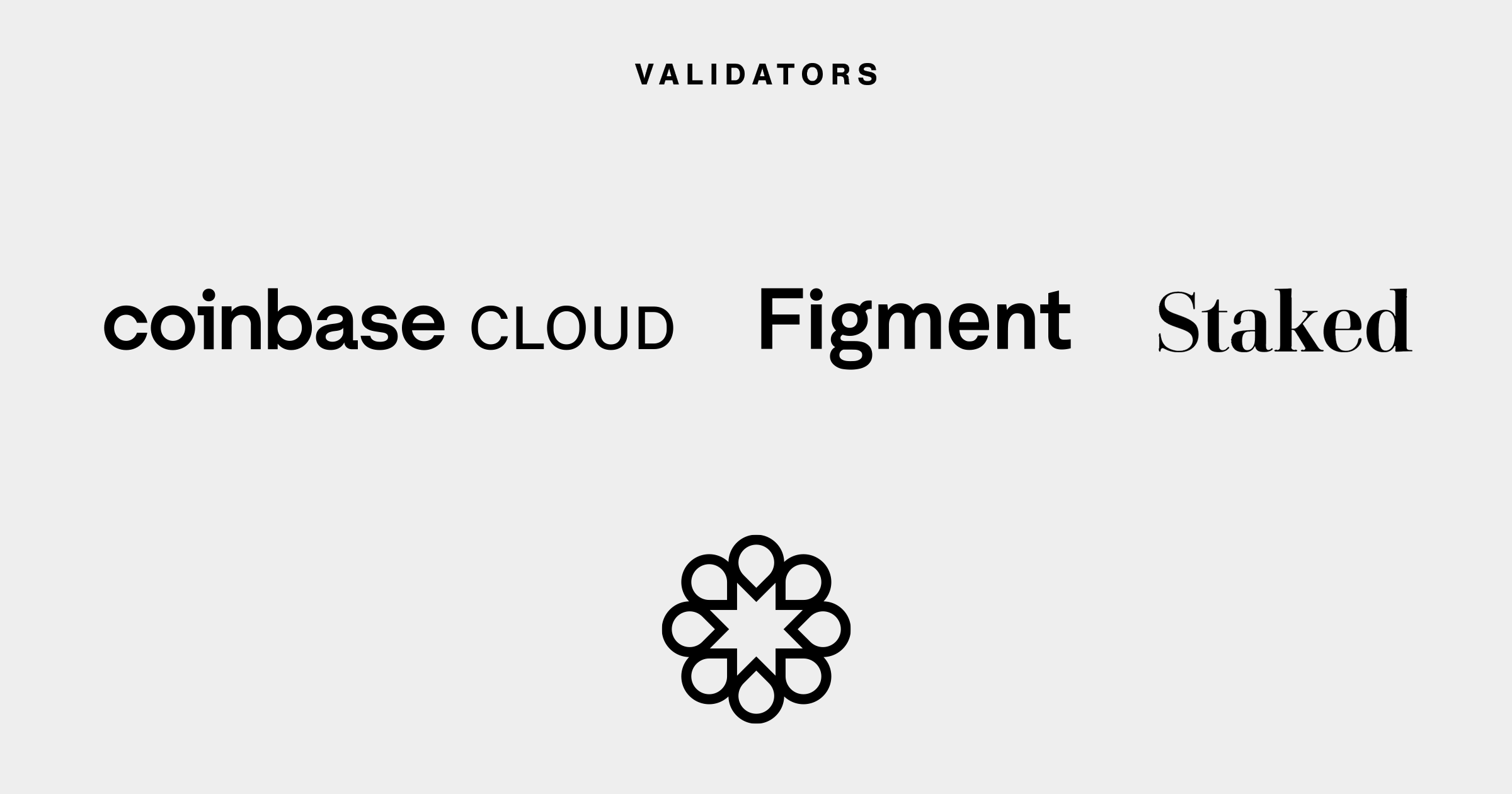 Are you interested in joining Liquid Collective as a validator? Get in touch. Follow @liquid_col on Twitter. Learn more at liquidcollective.io.
Collaboration with leading
web3 teams
Liquid Collective's mission to empower global participation in securing the decentralized internet involves collaborating with industry participants, including trading venues, custodians, technology providers, and validators, to build a liquid staking standard.
Liquid Collective is built in close collaboration with some of the best liquid staking solutions across the blockchain ecosystem including Figment and Kiln. The protocol not only enables the development of institutional-grade liquid staking products and services but also reduces centralization security risks with enterprise-grade, multi-cloud, multi-region infrastructure across a diverse suite of clients.
"Liquid Collective addresses a significant gap in liquid staking and lays the foundation for broader institutional participation in web3 with a solution that is reliable, secure, and designed to meet regulated institutions' needs. Coinbase Cloud is proud to participate in this collective effort by supporting the security of Liquid Collective as a validator operator. Coinbase Cloud's infrastructure is designed for safety and uptime to meet the rigorous requirements of leading enterprises, funds, and institutions. We are thrilled to help Liquid Collective scale in a secure and decentralized manner as an initial node operator."
— Kai Zhao, Group Product Manager, Coinbase Cloud
We're working with the governance experts
at Reverie
The concept of Liquid Collective is one of a broad coalition of industry stakeholders aligning to create an enterprise-grade liquid staking product. Reverie is assisting Liquid Collective to realize its vision by ensuring the protocol is designed to align incentives between various stakeholders.
"As Liquid Collective grows, there will be many different perspectives and potentially conflicting interests. It is essential to ensure stakeholders can come together through the use of an appropriately designed governance framework. Reverie is excited about the opportunity to work with a diverse set of contributors to build an industry-leading liquid

staking protocol."
— Derek Hsue, Co-Founder, Reverie
"Reverie is the leading governance advisor and service provider to DAOs. They are active participants and delegates in numerous protocols and have played key roles in establishing and scaling DAO organizational structures," said Mike Taormina, COO of Alluvial.
Liquid Collective looks forward to collaborating with Reverie on all aspects of its governance and is excited to consider Reverie's thoughtful input and insights. Liquid Collective wants to enable the community to build a framework for decision-making that is transparent, collaborative, and equitable. Collaborating with a third party to help develop this structure provides for greater neutrality.
Alluvial x Liquid Collective
Alluvial is the operating company supporting the development of the Liquid Collective protocol.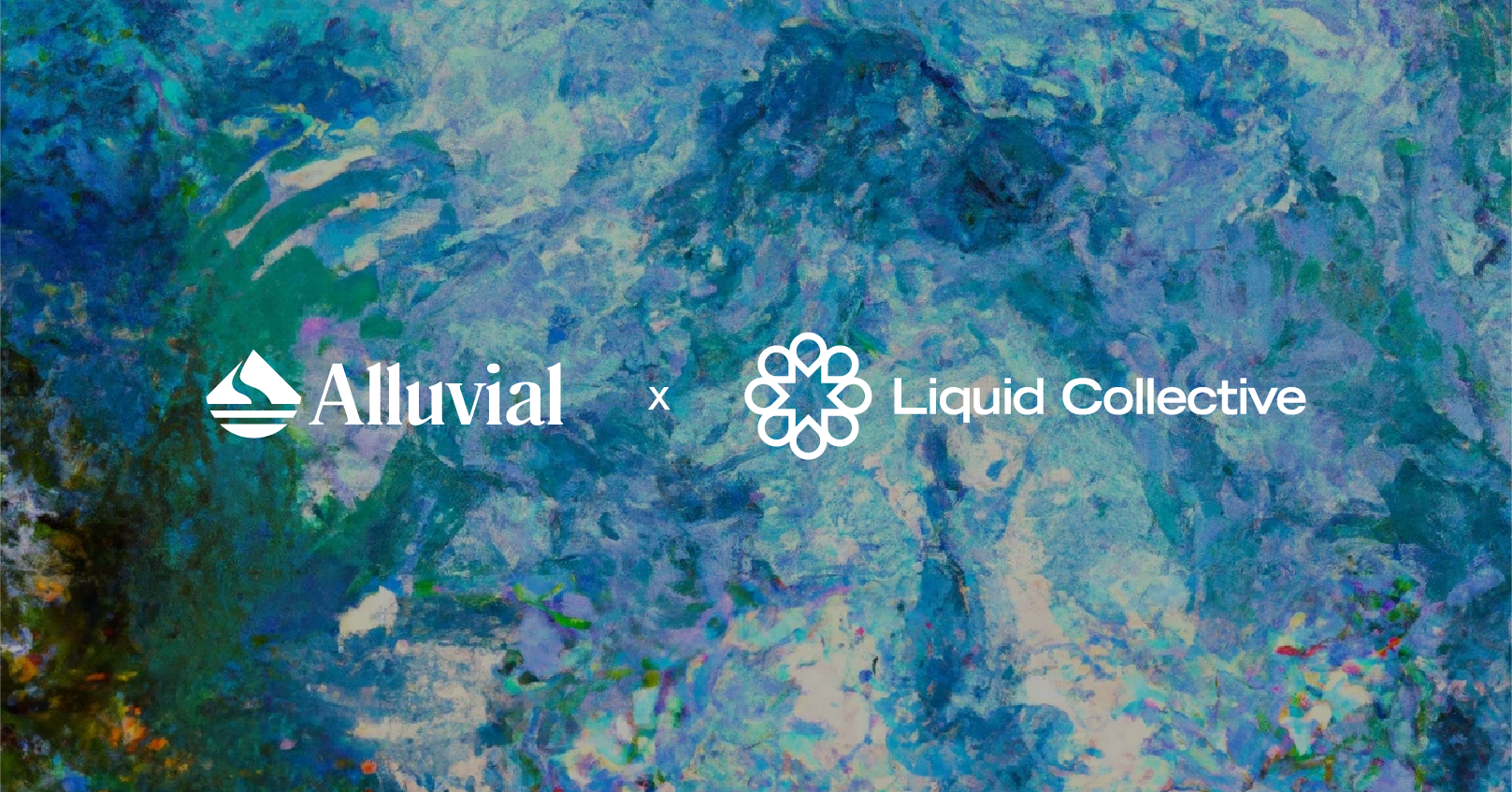 Values
Trust, Collaboration, and Excellence are our core values: the foundation of how we manage ourselves, our colleagues, and our working relationships with our partners.
Transparency, Security, and Innovation are our extended values; at the intersection of our core values, they inspire how we build together collectively.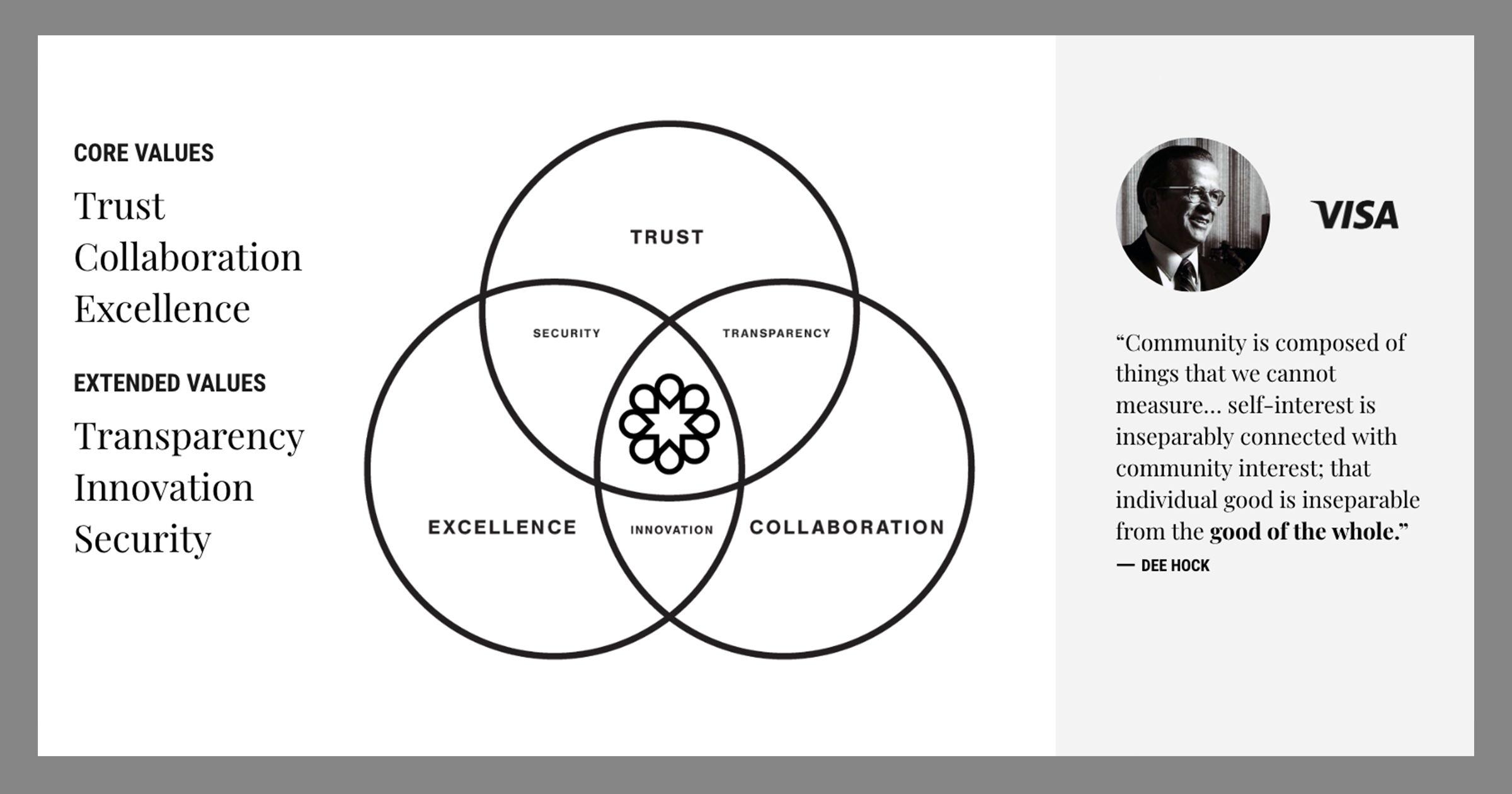 What's next?
Liquid Collective is planning to launch the protocol in the fourth quarter of 2022, starting with support for Ethereum liquid staking.
Events
1. "Liquid Staking: The Next Big Wave"
If you're attending Messari Mainnet, please stop by the Coinbase sponsor space on Thursday, 9/22, at 4 pm ET for a roundtable conversation with industry leaders. Panelists include:
Moderator: Mara Schmiedt — Coinbase Cloud, Head of Sales
Matt Leisinger — Alluvial, CEO and Co-Founder
Robert Moore — Kraken, Head of Corporate Development
Aaron Schnarch — Coinbase, VP of Product, Custody
Laszlo Szabo — Kiln, CEO and Co-Founder
Ben Spiegelman — Figment, Head of Corporate Development
2. Attending Devcon Bogotá in October?
Look for the Alluvial team, and let's talk about Liquid Collective!
---
Please note
Liquid staking via the Liquid Collective protocol and using LsETH involves significant risks. You should not enter into any transactions or otherwise engage with the protocol or LsETH unless you fully understand such risks and have independently determined that such transactions are is appropriate for you.
Any discussion of the risks contained herein should not be considered to be a disclosure of all risks or a complete discussion of the risks that are mentioned. The material contained herein is not and should not be construed as financial, legal, regulatory, tax, or accounting advice.