Alluvial Drives Global Adoption of Liquid Staking with $12M Series A Raise
The round is co-led by Ethereal Ventures and Variant, with participation from Brevan Howard Digital, Avon Ventures, Nascent Capital, a_capital, Robot Ventures, Fenbushi, IOSG, Blockdaemon and others.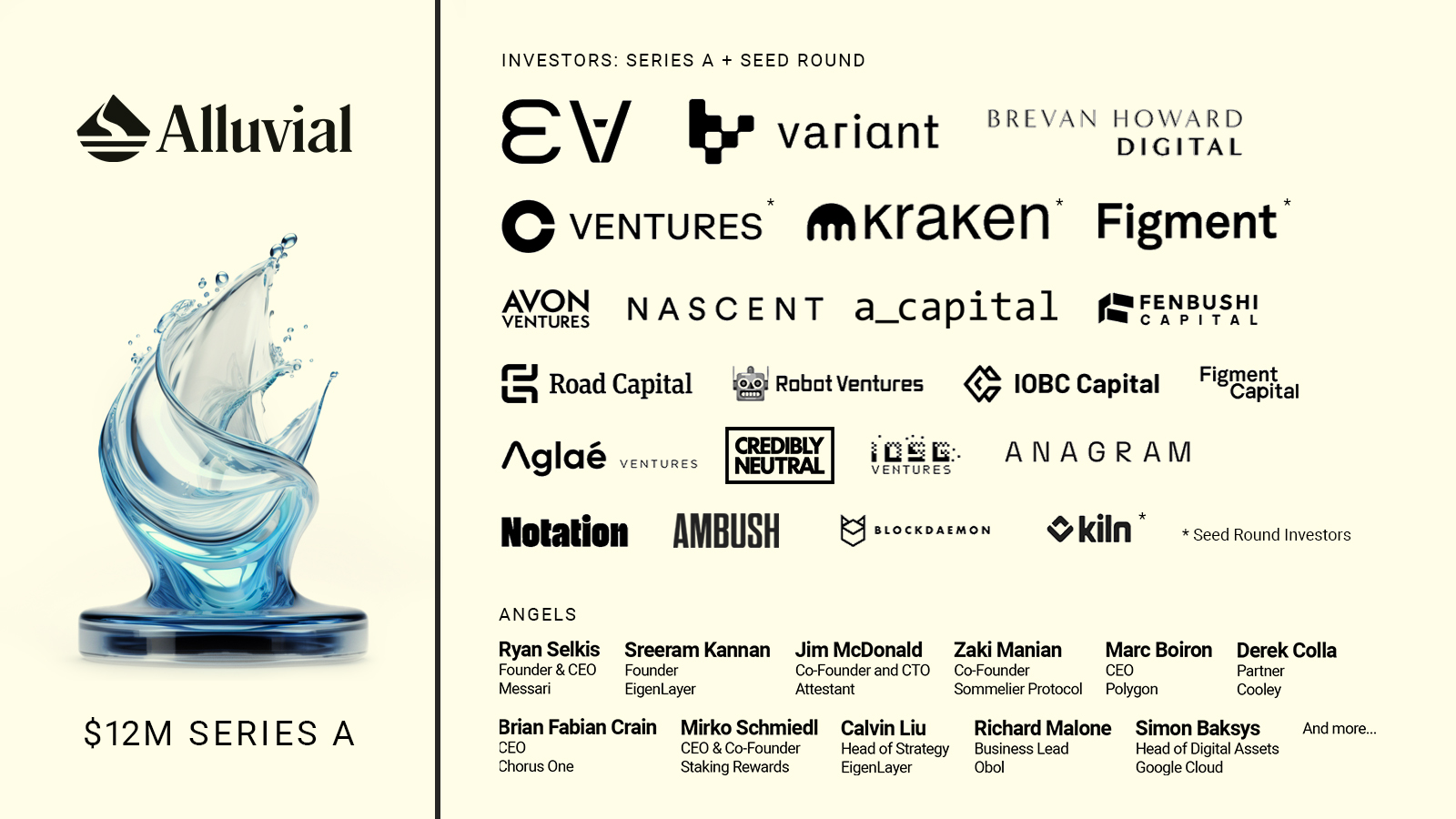 Alluvial, a software development company supporting the enterprise-grade liquid staking protocol Liquid Collective, has raised $12 million in its Series A financing round. The round is co-led by Ethereal Ventures and Variant, with participation from Brevan Howard Digital, Avon Ventures, Nascent Capital, a_capital, Robot Ventures, Fenbushi, IOSG, Blockdaemon and others. Alluvial previously raised a $6.2M Seed round from strategic participants including Coinbase Ventures, Kraken, Figment, and Kiln.
Liquid staking is a rapidly growing software solution responsible for enhancing liquidity and capital efficiency in web3. Liquid staking enables users to create onchain receipts of their staked positions on proof of stake networks, enabling them to use these receipts as collateral or to transfer ownership of their staked tokens. The $12 million investment will be used to further the first enterprise-grade liquid staking solution in the market, enabling mainstream adoption of liquid staking on a global scale.
"It's safe to say we're at the cusp of the next wave of adoption in the staking market," said Mara Schmiedt, Alluvial's CEO. "With the support of our investors, we're excited to continue to grow the Alluvial team, accelerate adoption of Liquid Collective, and bridge the gap between DeFi and TradFi to ease the on-ramp into liquid staking for more risk-conscious market participants."
Participation in ETH staking has skyrocketed since Ethereum's Shapella upgrade unlocked withdrawals of staked ETH in April, increasing by a total of 4.47m ETH, or $8.35bn at the time of writing. As a result of this recent spike in participation, the queue to stake ETH has grown to over 37 days.
Liquid Collective's LsETH provides a much-needed solution for participants looking to stake and earn network rewards while avoiding Ethereum's lengthy queues to deposit and withdraw from staking. By bringing liquidity and capital efficiency to staking, the protocol also unlocks a myriad of new innovations in the decentralized and traditional financial services markets.
"Liquid Collective will help usher in a new wave of participants contributing to the security of decentralized blockchains through its security and compliance-focused design," said Min Teo, Managing Partner & Co-Founder of Ethereal Ventures. "We're thrilled to see the impact of this innovation on advancing the proof of stake ecosystem and unlocking institutional adoption in traditional markets."
The Liquid Collective protocol, launched earlier this year, is uniquely positioned to open this innovation to traditional enterprises as the only decentralized, non-custodial liquid staking solution focused on compliance, security, and performance.
Built by Alluvial in collaboration with a diverse group of leading web3 teams—including Coinbase, Bitcoin Suisse, Kiln, Figment, Nexus Mutual and more—Liquid Collective combines onchain transparency and a distributed validator set with features designed to meet the needs of security and compliance-conscious enterprises and institutional stakers.
"Liquid Collective's membership and early integrations are a testament to the vision and execution of the Alluvial team, which brings world-class experience in ETH staking from both a technical and business development perspective," said Jesse Walden, Co-Founder and General Partner at Variant. "Mara Schmiedt, who successfully led sales at Coinbase Cloud, and her experienced product team have the ideal background to deliver enterprise-grade liquid staking solutions designed specifically for institutions."
As a software development company, Alluvial supports Liquid Collective's adoption through an API-first product approach, simplifying the integration of liquid staking for digital asset exchanges, custodians, and other enterprises. The team's goal is to ease access to enterprise-grade liquid staking across multiple blockchains for participants who have been sidelined by existing liquid staking options.
Thank you to all of our investors (Series A + Seed Round) for supporting this next chapter of our growth!
Investors (Series A & Seed Round*)
Angels
Ryan Selkis • Founder & CEO of Messari
Sreeram Kannan • Founder of EigenLayer
Jim McDonald • Co-Founder and CTO at Attestant
Zaki Manian • Co-Founder Sommelier Protocol
Marc Boiron • CEO at Polygon
Derek Colla • Partner at Cooley
Brian Fabian Crain • CEO of Chorus One
Mirko Schmiedl • CEO & Co-Founder at Staking Rewards
Calvin Liu • Head of Strategy at EigenLayer
Richard Malone • Business Lead at Obol
Simon Baksys • Head of Digital Assets at Google Cloud
Luke Hackett • Software Engineer at Obol
Read More
About Alluvial
Alluvial is a software development company supporting the development of Liquid Collective, the enterprise-grade liquid staking protocol. Alluvial's API-first integration makes it easy and efficient for digital asset exchanges, custodians, and other enterprises to integrate Liquid Collective's liquid staking capabilities into their existing product experiences. https://alluvial.finance
About Liquid Collective
Liquid Collective is the enterprise-grade liquid staking standard: a protocol designed to meet the needs of institutions, built and run by a collective of leading web3 teams. Liquid Collective will be governed in a decentralized manner by a broad and dispersed community of industry participants. https://liquidcollective.io
---
Please note
Liquid staking via the Liquid Collective protocol and using LsETH involves significant risks. You should not enter into any transactions or otherwise engage with the protocol or LsETH unless you fully understand such risks and have independently determined that such transactions are is appropriate for you.
Any discussion of the risks contained herein should not be considered to be a disclosure of all risks or a complete discussion of the risks that are mentioned. The material contained herein is not and should not be construed as financial, legal, regulatory, tax, or accounting advice.