Ethereum Staking Withdrawals Launch on the Liquid Collective Liquid Staking Protocol
Alluvial announced the launch of Ethereum staking withdrawals on Liquid Collective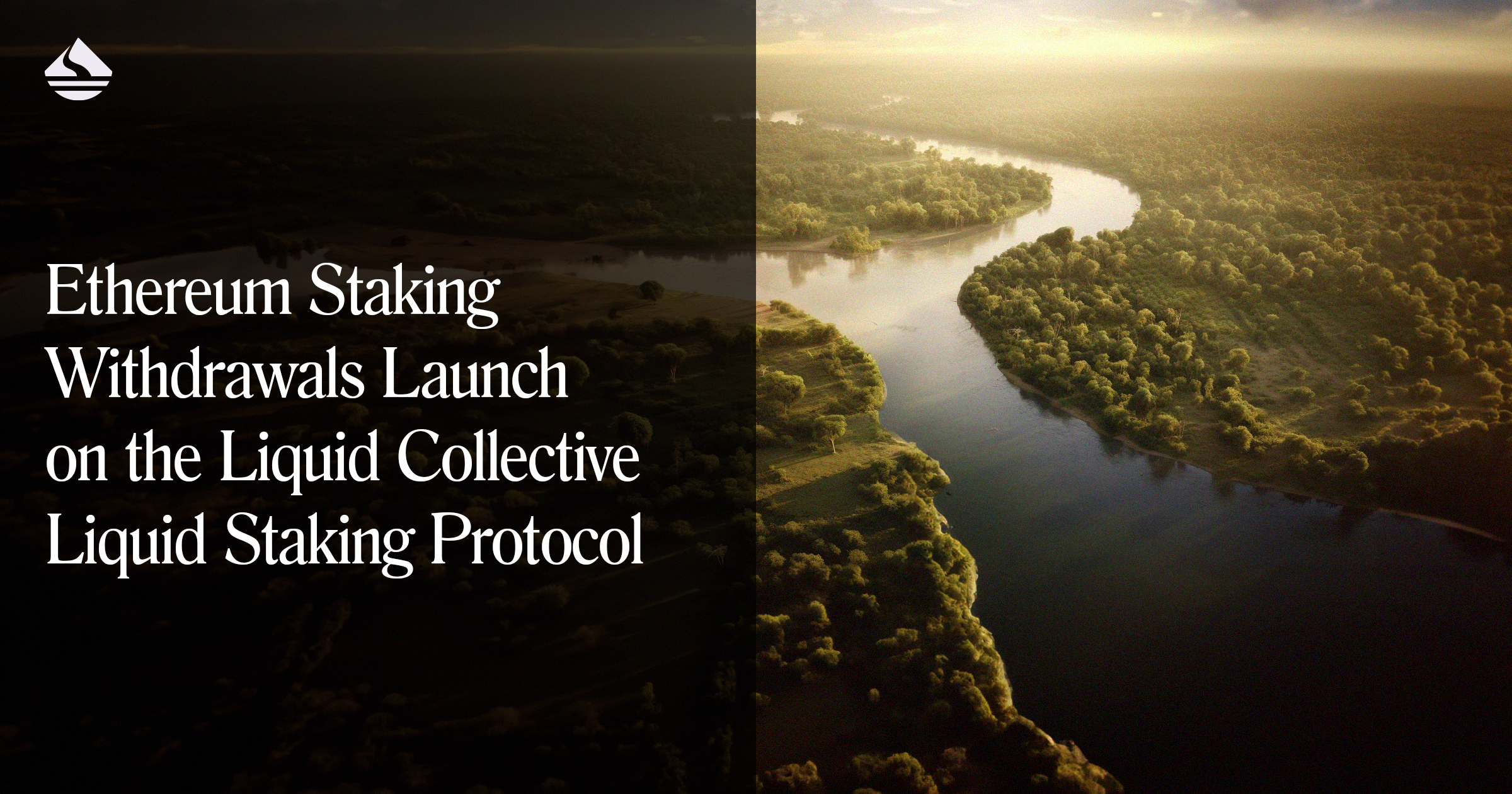 June 7, 2023 — Alluvial (alluvial.finance) announced the launch of Ethereum staking withdrawals on Liquid Collective (liquidcollective.io), the decentralized liquid staking protocol that launched with support from Coinbase Prime and Bitcoin Suisse in March.
Enabled by Ethereum's recent Shapella upgrade, this important feature allows stakers to redeem Liquid Staked Ether (LsETH) for Ether (ETH), significantly enhancing the protocol's liquidity and capital efficiency. Key features of Liquid Collective's ETH staking withdrawal design include automatic restaking of ETH rewards, seamless redemptions of LsETH for ETH, and simple access via a staker's preferred service provider.
Having deployed the protocol-level contracts to natively redeem LsETH for ETH, Liquid Collective's Integrators can now build simple LsETH redemptions into their platforms, allowing Liquid Collective stakers to redeem LsETH for ETH via their preferred service provider.
This development comes as the demand for staking continues to grow, with institutional staking experiencing unprecedented inflows and Ethereum's activation queue to stake surpassing the exit queue to withdraw by over 46 days.
Thoughtfully designed, Liquid Collective's implementation of seamless Ethereum staking withdrawals combined with its built-in Slashing Coverage and compliance standards bring the protocol one step closer to fulfilling its mission of creating the ecosystem's most trusted and secure liquid staking standard.
Key features of Liquid Collective's ETH withdrawal architecture for LsETH redemptions include:
One token to redeem staked ETH and network rewards earned—LsETH, following the cToken model
Automatic restaking of consensus and execution layer rewards increases the protocol's staking efficiency by maximizing the number of validators in the active set
Seamless LsETH redemptions thanks to efficient management of flows in and out of the protocol between Ethereum's execution and consensus layers with ETH deposit and redemption buffers
Simple access via a staker's preferred service provider to stake ETH and mint or redeem LsETH, once live
Liquid Collective's LsETH redemption design employs a simple three-stage process: Request, Satisfaction, and Claim. Automatic rebalancing across protocol's in- and out-flows, via ETH deposit and redemption buffers, allows for seamless satisfaction of withdrawal requests. The protocol's Redemption Queue aims to ensure that redemption requests are satisfied in the order they are made, to further protect against a race for claims during periods of high withdrawal demand.
You can learn more about Liquid Collective's ETH withdrawal architecture for LsETH redemptions in the protocol's announcement.
---
About Liquid Collective
Developed in collaboration with a diverse group of industry leaders, Liquid Collective is designed to meet the need for an enterprise-grade decentralized liquid staking standard that can be widely adopted, increasing liquidity and composability for the web3 economy.
Liquid Collective is the secure liquid staking standard: a protocol with multi-chain capabilities designed to meet the needs of institutions, built and run by a collective of leading web3 teams.
You can learn more here: https://liquidcollective.io/
About Alluvial
Alluvial is a software development company supporting the development of the Liquid Collective protocol. Alluvial is building the industry standard for enterprise-grade liquid staking, combining institutions' technical and security requirements with the web3 ethos of community-driven collaboration.
You can learn more here: https://alluvial.finance/.
---
Please note
Liquid staking via the Liquid Collective protocol and using LsETH involves significant risks. You should not enter into any transactions or otherwise engage with the protocol or LsETH unless you fully understand such risks and have independently determined that such transactions are is appropriate for you.
Any discussion of the risks contained herein should not be considered to be a disclosure of all risks or a complete discussion of the risks that are mentioned. The material contained herein is not and should not be construed as financial, legal, regulatory, tax, or accounting advice.